Laura Bassett interview: Ex-England defender and the sounds of the 'Iced' Age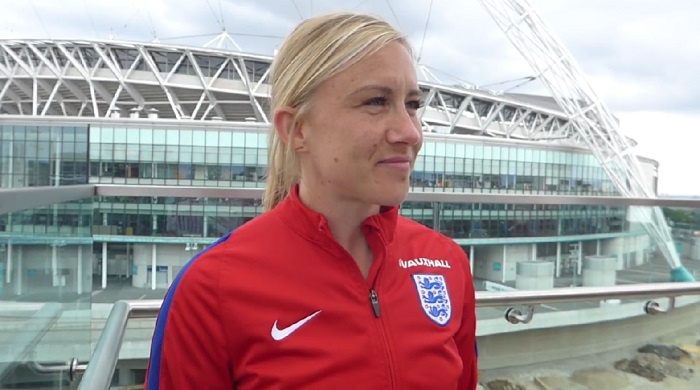 It is three years since Laura Bassett officially stepped away from marshalling backlines, wrapping up a terrific club and international career. For the 63-cap England defender, it was a time of friendships, triumphs and tussles, and for a while, some memorably 'alternative' sports science.
Competing at the top across two decades ensured that Laura Bassett became one of the women's game's most familiar figures in England. The former Birmingham City, Arsenal and Chelsea centre-back was part of a group that was catapulted into wider public consciousness following the England team's semi-final tournament runs in 2015 and 2017.
The names in those World Cup and EURO squads, though, had made their way up in a very different era for the game. Back before the days of feverish media interest, Wembley cup finals and more support staff for some teams than you could cram into the Burj Khalifa on a mid-season getaway.
The resources may not have been as plentiful but player nutrition was nothing if not cutting edge!
"In terms of what you were eating, I go back to England days, we used to have – genuinely – iced buns, for post-training snacks," Laura recalls. "You've done a double session, you finish your session in the afternoon, and there's maybe three hours before dinner, because you've got to have treatment, shower, all that."
"You need something to tide you over, and genuinely, we'd have iced buns. We still joke about it now, 'bring back them days – buzzing!'
"We were probably up north somewhere freezing, you'd be cold, wet, but you'd know that what'd get you through is that iced bun and a cup of tea! So, looking back, no wonder we weren't as fit as the other nations!"
Both during and after that glazed Lionesses era, 'Bass' was a tournament regular, going to five consecutive major competitions. She would also captain Birmingham City to FA Cup success in 2012, the club's first major honour, and in their debut UEFA Champions League campaign later that same year.
There is a new generation of women's football fans who have not known their elite players to be anything other than full-time. It of course remains the reality today for so many committed competitors down the levels, but Laura was among those at the top who had to find a way to juggle devotion to on-field endeavours with getting by in the 'real world'.
It was not entirely without its perks, however, including an impromptu meeting with an Ipswich Town fan currently doing alright for himself.
"I used to work for Steve Shipway (ex-Birmingham City Women chairman, among various roles over the years) and Showpax Conference Services. We were providing all the transport, logistics, it was a really high-end event, and Ed Sheeran was there performing.
"When it's going on, we'd always make ourselves scarce, because we're arranging the travel, but he came out the back and that's where we were waiting, trying to avoid everyone. The lads were like, 'Come on, go and ask him,' because it was in the lead-up to the 2012 FA Cup final, so I got him to do a video message and say, 'Hey, Birmingham City Ladies, just wanted to wish you good luck.'
"He was really pleasant and accommodating, so that's probably the best, unexpected moment."
Although she has been to his concert, with plans to go again this summer, something a touch more frantic has typically taken her fancy through the years. It is in ever-so-slight contrast to some of the choices of Laura's partner, Manchester United Women head coach Marc Skinner (though it was his idea for them to see Eminem together at Wembley).
A self-confessed Freddie Mercury fanatic, pianist-composer Ludovico Einaudi is another particular favourite of the Reds boss. So all it needs is a Clubland mash-up and the Skinner-Bassett household will be in perfect harmony!
"For games, I'd be like, 'I just wanna hear the beat', but he can listen to anything – Harry Potter music! Maybe that's the different pressures of a player and a manager, but I'd be thinking 'that's boring, you need to speed it up a bit!'
"I used to like David Guetta's albums; they were always dancey and just good. It really was just any chart music that was current, but I did tend to go back to him on my playlist on my phone."
View this post on Instagram
The Bulkington native has plenty of song-soaked nostalgia to look back on, especially with those she was closest with in her career. One such example comes via wing-wizard-turned-pundit Karen Carney, a teammate at Birmingham, Arsenal and for England, and a close friend to this day.
Back in 2015, she chose Laura when asked this site's regular question of which teammate(s) from her career she would choose to record a cover song with (Laura's choice to come later…). The track was Avicii 'Wake Me Up', which the ex-Chelsea star described as a holiday song for the pair.
Laura confirms that was the Barcelona trip for her 30th birthday, back in 2013, when scientists say it was impossible to be more than six feet away from that song at any given moment. Long before inescapable mega-hits from Swedish DJs, the two of them had their ultra-smooth favourites, along with another ex-England colleague.
"Me, Woody (Emily Westwood) and Kaz were a good glutton for Usher and Craig David; we did like our r&b, so they would have been some of the earlier ones."
As talk turns to gigs, a slight pause for thought prompts some scratchy, electro-infused memories, that had been safely buried away, to come flooding right back.
"We did go and see LMFAO! Me, Woody, Kaz and a few others, (Rachel) Unitt, the Midlands-based players.
"It was so funny and bad that it was good! We used to go quite a lot (to gigs) but I haven't been for ages."
View this post on Instagram
She had been due to see Pink in concert, only for it to be cancelled, though if she could see anyone from all-time perform, the US star would get the nod. While unable to quite recall the first music she bought, she does at least remember the first 'band' she was in (is that Laura Bassett or Katrina Highkick up there?).
"It's so cringey looking back, I was at secondary school, so I would have been Year 7 or 8, and I wanted to play football with the lads at break time and lunch time. I had really good core friends of seven or eight girls as well, and they were getting a bit jealous of me playing football and wanted me to hang out with them.
"I wanted to play football but I wanted to keep my mates as well, so I used to alternate days, but what they'd do on a lunchtime was pretend they were the Spice Girls – I think they only wanted me there because I'd be Sporty Spice!"
She would be alongside some genuine vocal ability later down the line, in the form of someone she tasted Women's Premier League Cup glory with at Leeds Carnegie in 2010, the club's first major trophy. Also a former Notts County and England teammate, the attacking talent featured on here in August 2014.
"Jess Clarke was the main one, and she didn't really want to perform too much, but she's probably the best singer I've heard who could actually sing; there's a lot of people who thought they could! I think Fern Whelan can hold a tune.
"Jill Scott's more of the team dancer, if you can call it dancing! Then she tries to teach you and you're like, 'No, I'd rather not know that move!'"
Alex Scott may have been known for her long-time residency as Lionesses DJ (and for being a pretty decent right-back), but would Laura's influence as a senior player for either club or country ever extend to dabbling in the changing-room music herself?
"I'd obviously sit there and tell everyone if I liked or disliked a song, I'd throw my two pennies' worth in, but I was definitely not the DJ. At Birmingham, in the early days, Steph Williams and Michelle Archer, they were a duo and they'd always try to change the music back to their soulful r&b, slow things down in the changing room!
"Everyone would want to speed the beat up but I think they just did it because they were pretending they were on holiday somewhere with sangria! At Birmingham, Woody (Emily Westwood) loved it, she was really good, and she put loads of time and effort into it.
"She made a playlist and she'd then go to the effort of texting everyone, 'What song means the most to you?'"
What transpired to be the final chapter of Laura's career, at Australia's Canberra United, included being alongside one of the game's most promising players of the last few years. Winning her second Champions League this past weekend, she remembers this effervescent, all-energy Aussie full-back's personality shining even brighter than their lime-green shirts.
"Ellie Carpenter, who's now at Lyon, she's a really big character, I like her a lot. She definitely would DJ, along with maybe Michelle Heyman.
"She was only young when I was playing but you could just tell she had an 'X factor' about her, loved her music, was the life and soul of the party, had so much confidence. That was brilliant for me, I loved that; I wish I would have had more of that growing up.
"She also didn't take herself too seriously, and that's a big thing for a young player."
View this post on Instagram
An Aston Villa fan, Laura tells how she has felt the wrath of her mum that morning for sending her a photo of daughter Saede going to nursery in a Manchester United top. As well as captaining Notts County in 2015, against Chelsea in the first Women's FA Cup final at Wembley, she lifted the trophy as Birmingham skipper (also v Chelsea) three years earlier (when Blues, incidentally, had a song recorded for them).
It was at a time when Villa were nowhere to be seen in the higher reaches of the women's game, and wider club rivalry aside, it was an undoubtedly special spell in her career. If she was to ever branch out today from her TV appearances as a pundit, heading instead to a very different studio, one fellow member of that cup-winning Blues backline would be called in to lead the way.
"Me and Chelsea Weston would definitely sing Tina Turner, 'The Best' or 'What's Love Got To Do With It?' She would be like the hype woman, she would have no inhibitions, she would go for it, which would then make me go for it!"
Initiation songs have long since pervaded both the men's and women's game. With time spent together in hotels, on buses or planes, in pre-season training camps and suchlike, some incredible stealth is needed for any player wanting to dodge being called upon.
With stints at eight clubs (Birmingham twice), Laura must have had to brave it herself a few times…surely?
"I think I managed to avoid all them, but I think what I would have sung is Queen 'Bohemian Rhapsody', so you don't have to really sing, you can just belt it out and it sounds bad anyway! I wouldn't want to be that person who stands up and really tries and it's just awful; you've got to choose a song that the majority of the population are bad at!"
Despite feats like scoring for England at a tournament – a deft finish against Spain at EURO 2013 that any striker would have been proud of – she thinks Coventry City as a teenager may actually have been her happiest time. For Laura and the likes of one-time England roommate Carly Telford (at Sunderland), they were as young as 14, playing alongside and against grown adults.
The commitment of players back then was certainly no less, with outrageous sacrifices made in many cases just to play, but it was an era when players were simply not surrounded by the same outside noise (both positive and otherwise) as today. Being a footballer was essentially lived out exclusively with those you were going through it all with.
View this post on Instagram
It is no surprise how deep some of those bonds still run, perhaps summed up perfectly by this memory from when Laura was Birmingham skipper. She is asked if having such a close friendship with Karen Carney ever brought about a unique, sibling-like dynamic, in the form of a crossed word or two in the heat of a game, when she was the one captaining her.
"You know the old adage of family members and how you're harsher and more critical on them? They maybe get the brunt of your bad day because of the unconditional love; I think maybe I treated Kaz like that.
"Kaz was very passionate and very caring, so it was more the other way, where it was me to her. I think we had Donny Belles away, and she tried a dribble, lost the ball and then they counter-attacked and we conceded a corner.
"I was like, 'Where is she?! Get back here and defend this corner!' It was wrong of me but I was just emotional.
"She's still my mate now anyway, so it can't have been too bad! Looking back, it was probably one of the better teams where what's said on the pitch stays on the pitch."
It is funny, and in truth, somewhat unjust, that some players reached a final for England in EURO 2009 that was only really celebrated within the women's game itself, when the (hugely commendable) semi-final achievements of later tournaments were the ones that ultimately propelled the team to widespread acclaim. The Germany side that the Lionesses met in Helsinki that evening (losing 6-2) was filled with formidable, legendary figures.
For so many years, the mere sight of those names on a team sheet could fill an opponent with unrest, as Laura remembers vividly.
"Birgit Prinz – I was thinking 'what am I gonna do with her?!' Another one was (ex-Scotland and Arsenal striker) Julie Fleeting; I'd think 'I've got her, she hasn't kicked the ball all game', then out of nowhere, ball in the box, she'd be so aggressive and…goal.
"'Okay, now I feel like I've had the worst game, because when it mattered, she won that!'"
The women's game has at times been painted as a squeaky-clean place where instances like diving or dissent never happen – those who have been out there in the action know that is not quite the case! Ferocious individual battles and fiery verbal exchanges can certainly also be found.
For Laura, who ended up with a shiner more befitting of the boxing ring after an aerial challenge with France's Camille Abily in the 2015 World Cup, another international match-up comes to mind when she thinks of the more heated duels in her career.
"An interesting one, (Sanne) Troelsgaard, who signed for Reading, in the lead-up to the (2017) EUROs, we played Denmark. She was really aggressive as a player and she held on to my shirt, my shirt was all ripped down the front and it kicked off a little bit!
"She probably doesn't remember, it was nothing, I was trying to impress the manager and so was she, but that's the last one that I remember. I did have a giggle when she came to England and signed for Reading!"
Announcing her retirement in June 2019, having had daughter Saede during the previous season, Laura has been one of the former players to successfully step into TV work and offer her knowledge. That there are now such significant openings for those hanging up their boots is a source of great pride for her.
Having that area, or indeed any other venture, to move into can help hugely when it comes to stopping playing, but going from spending most of your life around a squad of people to leaving it behind still leaves an undeniable void.
"One thing I do miss is the camaraderie, the interaction with the players, staff members. You're turning up each day and you want to bring your best self, have a laugh, enjoy it, but you're also there for the common reason of trying to win something.
"I do genuinely miss that, especially because when I stopped playing, I fell pregnant, so being a new mum, your days are quite different to a footballer; everyone else is at work and you're with a baby trying to keep a human alive, so it's quite daunting and isolating. Throughout my life, I'd been surrounded by people, so it was a huge change.
"Being involved in the TV, people often ask, 'Are you bitter?' No, absolutely not, because the game evolves, which is what we've all worked so hard to do, and now every time you turn on the TV, there's a player who's retired getting work and adding their value.
"The opportunities are out there if people want to be back involved in women's football now, so that's what's pleasing. So, the TV work's been good, I'd like to finish my (UEFA) A Licence, although I think it's ran out.
"I'm doing a talent ID course; I'm really interested in scouting and talent ID. I'm not too sure where I'll end up and what I'll be doing, but I'd always like to be involved in women's football."
View this post on Instagram
Asked what she does not miss about life as a player, the emphatic response is the all-too-frequent bouts of fitness testing. For the regular closing question here, she is back in the action, with no strenuous drill to overcome beforehand, and she has even bagged herself the player-manager role.
Each interviewee through the years has been asked to picture a small-sided game, with four places on their team needing to be filled; not necessarily by the outright 'best' they have ever played alongside, but simply examples of those who would make it fun. The team sheet is in, so it looks like everything is in place to get this one started. Hold on, these half-time oranges look a lot like iced buns…
"I'd take it back to Ellen Maggs; she was one of those players who plays to meg you, especially in 5-a-side, and laughs about it! I would want her on my team so she could do it to others!
"I look back to the early years and it was when people really made me laugh. I'd have Marge (Marie) Hourihan, stick her in goal; her dry sense of humour, I call her Miranda!
"She'd come out with some perfect one-liners. I'd have Ellie Carpenter in there, surely; she'd really make me laugh.
"We'll have Kaz (Carney), just for an easy life, because she'll get stroppy! She does make me laugh as well, and she'd probably score goals, because I'd want to win this thing, I don't just want to laugh!"
To catch each of these interviews, you can follow me: @chris_brookes
You can also like the Facebook page and stay updated