Julia Šimić interview: Dancing under the green and white lights – How Wolfsburg midfielder got her keys to the show
Moving up through Germany's youth national teams and becoming one of the Frauen-Bundesliga's foremost midfielders over a number of years meant that Julia Šimić's 2016 entrance to the full international show was almost as long-awaited as it was welcome. However, feeling eager anticipation with a stage in her sight is not all that unfamiliar for the current VfL Wolfsburg performer.
In the career of Julia Šimić to date, her name has gone beside that of premier clubs FC Bayern Munich, Turbine Potsdam, and in most recent times, VfL Wolfsburg. Despite making her midfield presence felt at the top level over the past decade, and earning national team inclusion at one point, the Nuremburg product had been largely overlooked during Silvia Neid's long reign at the Germany helm.
Plenty of people had brought Julia's name into the conversation, but she had been five years away from the senior team when Steffi Jones called her back into the reckoning late last year. The joyful moment that most, if not all, players dream of finally presented itself when she took to the field in the October friendly with Austria, coming on for Lina Magull in Regensburg's Continental Arena.
The 27-year-old's international credentials have been demonstrated by a club career in which competing for trophies has been the norm. A three-time DFB-Pokal (German Cup) winner and part of numerous UEFA Women's Champions League and Frauen-Bundesliga title challenges, Julia's star actually shone brightly in tournament play way before all that.
She would of course end up playing for stadium crowds herself, but as a youngster on this particular occasion, her football performances took her to the sideline of a show where the major players were a little different.
"As a child, maybe 12 years old, I was invited to 'THE DOME' in Munich as a prize of a youth tournament where I was selected as the best player," Julia explained. "I went there backstage and could meet some stars like Blue, Snap! and even Shaggy."
"That was amazing."
Although it sounds like a venue, 'THE DOME' was a show that brought together various German and well-known international artists and was held for 15 years around Germany until 2012. Julia's own aforementioned VIP experience was in February 2003 at Olympiahalle, while Munich was of course the city in which she received her first big break in football.
She spent eight years as a Bayern player before leaving for Turbine Potsdam in 2013, and in one of those many funny ways that football brings things back around, it was away to Bayern that she returned last September from five months out with an ankle syndesmosis ligament tear, with Wolfsburg winning 2-1. Many pivotal factors have enabled Julia to become the player she has and while it may be hours of practice with the ball or even dedicated fitness and nutrition that comes to mind, getting lost in her own sacred world of sound is every bit a vital ingredient in her athletic routine and story.
"Music is a big part in my life. I need music to motivate myself during the gym and I'm listening to it before the game, when we're sitting in the bus driving to the stadium.
"It helps me to concentrate and to forget everything around me, but sometimes I prefer the silence; in this time I don't like any noise or any music."
Those are the possible avenues for Julia to roam down as she searches for her ideal match-day mindset, although beneath the business of tactics, preparation and competing, the lighter touches to the game are always waiting to be enjoyed. That was exactly the case for Julia and her Wolfsburg teammates earlier this year, on the final evening of their winter training camp in Portugal, as they let loose on the dancefloor.
The motivational mix for Ralf Kellermann's team can come in many forms and Julia paints the picture of the scene often found within the walls of the home dressing room at AOK Stadion, or wherever Die Wölfinnen's tour bus may have stopped on that game day.
"Usually there are three or four people playing the music and deciding on the songs, so we don't have just one DJ in the team. I am one of those people and I have different playlists.
"Sometimes everyone is in a calm, concentrated mood, and on other days, there's kind of a party mood inside the locker room, so it depends a little on the atmosphere and the mood what we are going to play. The playlists are filled with contents of pop charts and r&b/hip-hop.
"For example: Jessie J, Usher, Coldplay, Shawn Mendes, Rihanna, Justin Bieber, and many, many more!"
Julia is a midfielder who has worked on bringing a varied set of qualities to her game, which has certainly included the ability to break forward and onto the scoresheet over the years. In her engine-room position on the field, she can see and affect much of the game, and while injury may have deprived her of an appearance in her first Champions League final last May, she took up a higher vantage point in the broadcast booth.
Not being able to have any impact on the clash with Lyon (ultimately won by the French side on penalties) wasn't what she wanted, but providing German TV analysis for Eurosport was a privilege all the same. In addition to approaching her football from a range of angles, Julia describes how the same can also be true with her listening choices.
"To be honest, I like various music styles and directions, so that makes it hard for me to choose only a few, but I'll try. I really like the music from Alicia Keys, Beyonce, Emeli Sandé or Rihanna.
"Also songs from Sam Smith, Usher or Ed Sheeran…who doesn't?! I love the voices from James Bay and Adele.
"I think music often depends on your mood and emotions."
That mood has been tested more than a few times along the way as Julia has contended with injury frustration, the most recent of which has been thigh trouble holding her back in the opening segments of 2017. Even despite that, it's hard to dull the sparkle of a bright personality like her, so has she ever had to draw on that in order to navigate her way through a singing initiation when she first joined a new team?
"Luckily, I have never had to do it. If I have to sing once, I would maybe choose a Bavarian song that no one knows!"
Often it may be best to leave the singing to the pros, although there are seemingly more and more footballers who appear every bit as at ease with playing instruments as they are at playing the beautiful game. There are also the smooth vocalists and the sharp movers, with the women's game containing many credible and other light-hearted examples of each.
There is one performer from Julia's old club who wasn't afraid to reach for the limelight, although it may not be quite the one you would expect.
"I can't remember a funny teammate in this way, but the funniest singer and dancer was our Doc in Potsdam. He was so self-confident that he tried to dance every time, unless everybody was laughing.
"Last year, we were at a live concert from Justin Bieber with the team. The show was crazy and we had so much fun."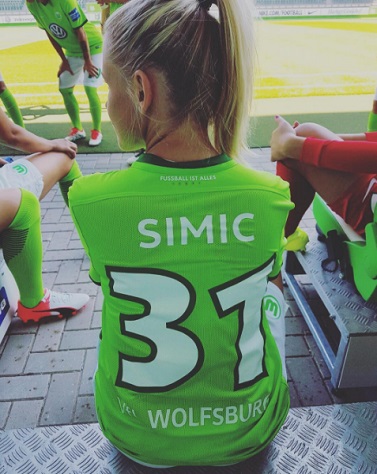 During the most recent Christmas/New Year period, Julia headed over the Atlantic to New York and Miami. For any footballer who wants to cross international borders, whether literal or just in terms of the audience they are able to reach, being able to communicate in different languages is hugely advantageous.
This interview conversation was in English, which is a language that the Julia of the late 90s and early 2000s was, by her own admission, freestyling with! She shared her recollection of this as she was asked if she could remember the first album or single she ever had.
"Oh, I really have to think about this question. I guess I was around about nine or ten years old and it was a CD from the Backstreet Boys – so typical for a young girl at this time.
"I knew every song; not the right lyrics, but my own style of speaking English. Then there came the time with Britney Spears and Christina Aguilera, but I also liked the Spice Girls and Eminem."
As part of Germany's 2008 team at the FIFA Under-20 World Cup in Chile, Julia scored in the third-place playoff with France as Maren Meinert's side won 5-3 to make their campaign a bronze effort. She also played under Meinert as the Under-19s won the UEFA European Championship in Iceland a year previous and she decided in this next question that she would like to link up once more with one of her teammates from that U20 adventure in South America.
Separated by just eight days in age from this current Germany defender, Julia was the number 15 to her 14 at that World Cup, and she nominated her as the career teammate she would want to record a song with, which they have actually already had some practice at!
"I would definitely choose Verena Faißt. She's now playing for Bayern, but the years before, we played together for Wolfsburg and we were always singing together.
"Once we made a cover song from Adele's 'Hello' in a small group. The result wasn't the best, but we had so much fun recording the song."
Switching back to idols on the pitch, Ronaldinho was once Julia's favourite player, with the dancing Brazilian number 10's Barcelona peak coinciding with Julia starting out at Bayern. While her role isn't quite as positionally advanced or as creatively demanding as that, she can always offer an element of attacking threat, as shown in the early stages of the 2014 Champions League semi-final second leg.
It would only be a matter of months before she swapped Turbine Potsdam blue for Wolfsburg green and she hammered home a message to her future employers. The tie was goalless from the first leg in Potsdam eight days earlier, but seven minutes in at the Volkswagen Arena, Genoveva Añonma found Julia on the edge of the box and she killed the pass with an expert first touch, before finding the far corner with her left foot with a shot that Almuth Schult could barely get fingertips to.
It was a game that swung toward the visitors again before Wolfsburg wrestled it back to win 4-2, but Julia had certainly made a memorable impression. As we discussed which player from all-time (male or female) she would want to practice shooting with on the training field, she came up with two world-class, Bavarian-based suggestions.
"The hardest shot from all female players I've played with has definitely been Melanie Behringer from Bayern Munich. If I could choose one male player, I would probably take Arjen Robben.
"When I was playing for Bayern, I often watched him improving his left foot, and I can say from ten shots on the goal, he scored eight times. He shoots the ball exactly where he wants it to be, it's crazy."
Despite rupturing her cruciate ligament twice during her time at Bayern, Julia was part of the DFB-Pokal-winning run and also played in the last 16 of the Champions League in 2009/2010 as they suffered an agonising 1-0 extra-time defeat to French club Montpellier. When she made the decision to move on in 2013, she talked about leaving a comfort zone after having so many experiences in Munich, including studying and graduating.
Each of Julia's three club spells represents varying achievements and obstacles, but looking back over it all, it is the latter of those she firmly believes gave her the most to take forward and apply the lessons from.
"To be honest, I would say I've learned the most at the times I was injured. I ruptured my ACL twice and last spring I had a surgery on my jumping joint.
"After the times of rehabilitation, you appreciate being back on the pitch and just enjoy being healthy. So I would say to the younger me: enjoy playing soccer every second and be thankful that you are healthy and that you can play without any restrictions."
When Julia headed to Wolfsburg over the 2014/15 season's winter break, she said she hoped the switch to Lower Saxony would see her become more involved in the style of play, though she was also quick to thank Turbine Potsdam, the supporters, and also coach Bernd Schröder for his faith in her. In just over two years at Wolfsburg, she has seen Die Wölfinnen win two more domestic cups, with her appearance in the 2015 final seeing her contribute to a 3-0 success over Turbine.
Missing out on the league title by one point in May 2015, Wolfsburg came 2nd to Bayern again last season, while in Europe it has also been a case of 'so near, yet so far' up to now. Having played both legs of the narrow 2015 Champions League semi defeat to Paris Saint-Germain, she missed the 2016 final loss to Lyon through injury and the same opponents ended their run at the quarter-final this year, despite a 1-0 victory in the second leg in France.
Currently working on returning to action, Julia scored twice in a February win over Sporting de Huelva, which came during the Portugal training camp that also saw them beat Arsenal, 1-0. As well as the work, the trip also gave her another chance to refine her golf swing during the downtime, but the downside of 12 days abroad meant being away from a special companion.
"Oh my favourite free-time activity is to spend time with my little dog, Coco; she is a Beagle and a very faithful friend and I really like the walks with her. On the other hand, I love to go shopping; not all this expensive stuff, just fancy things sometimes to change my style from day to day, or to meet with friends for lunch or dinner."
Julia has also been studying sports science, while back to her expert subject of playing, she harbours hopes of adding to her two international caps, having earned the second in a win over the Netherlands in October. One of the team successes in her career you may not hear quite so much about was winning the DFB-Hallenpokal der Frauen with Turbine Potsdam back in 2014.
The competition was an indoor tournament which Frauen-Bundesliga teams used to compete in over one day during the league's annual winter break. As FIFA decided that official indoor tournaments required futsal competition rules, it left the clubs to decide that it would not be the same kind of game if they were to do that, and so January 2015 was the last edition, with Bayer Leverkusen triumphing at GETEC Arena in Magdeburg.
A slightly magical thing about the tournament was how fans got to see the players and kits they knew so well, but with a totally different setting and lighting. There were those street football elements of the play itself, as well as the charming details like a bunch of international players waiting eagerly at the side for their turn to go on and play.
In the concluding part of our interview, Julia got to place herself back in this kind of fast-paced, fun scenario, although just in fantasy terms, as she selects four of the career teammates she would want alongside her in a 5-a-side line-up. For this one, the game doesn't necessarily need to be indoor; it could even be played on a beach (Miami Beach if Julia was choosing).
Here is the clan Julia would be rocking with, as she introduces her German/Swiss/Belgian crew!
"As a goalkeeper, I would choose Almuth Schult, our goalie from Wolfsburg. She's saving incredible shots and has good skills with her feet, too.
"As a defender, I take Stefanie Mirlach. She's my best friend and we have played together many years at Bayern München and also at Turbine Potsdam.
"The best midfielder and also a really good person I have played with is probably Ramona Bachmann, who is now playing for Chelsea in London. She has incredible skills combined with an extraordinary speed.
"As a forward, I would choose my really good friend and roommate from Wolfsburg, Tessa Wullaert. I just like to stand on the pitch with her, because she often thinks similar to me and so it's easy to play together.
"I think this would be a very good team!"
To catch each of these interviews, you can follow me: @chris_brookes
You can also like the Facebook page and stay up to date!