Josephine Henning interview (Part One): 'Just searching for a world with some soul' – Germany defender by the book but beyond the set list
Germany defender Josephine Henning comes from the inner circle of knowing what it takes to deliver when the spotlight is burning brightest. While her record shows a mountain of titles and tournament wins, she starts to uncover in the opener to this three-part interview just how much magic swirls amongst the method in the life of Olympique Lyonnais' number 26.
The feeling of winning. It can be relief, satisfaction, or at its best, pure unadulterated joy that has you bouncing high up in the clouds, safe to let go and give yourself fully to the moment without consequence.
No matter what our vantage point, it's what we all crave in sport, and certainly in aspects of general life also. Naturally, it's a party that football's elite will find themselves a seat at far more than most, and for Germany and Lyon defender Josephine Henning, triumphs have come often, with a silverware record bordering on the stupendous.
Alongside two major international tournament wins, the ex-Arsenal player won an incredible fourth UEFA Women's Champions League crown last month when Lyon edged beyond French rivals and her former club Paris Saint-Germain on penalties in Cardiff. Of course some characteristics are common in players who've successfully made it as professionals, with good guesses being dedication, fortitude and an incessant yearning for victory.
For 'Josy', the last one is very much present, but the real value of chasing titles is not in any trophy tally she can rack up, but in the shared rushes and chills it brings her and those she plays with. The centre-back's standing in the game is obvious, and her part in a fourth big competition with Germany will unfold over the next few weeks in the Netherlands, at the European Championship.
The dependable defensive performer seen in multiple prestigious jerseys is, however, just one colour on the palette of who she is. This feature is an introduction to one of the decidedly less showy but most spectacular personalities in the women's game, divided into three parts, which is representative of the aspects to her life and character she strongly identifies with away from football – artwork, music, and her loved ones.
Beginning, though, with the most obvious layer, her top-level ability and mentality has been seen by Silvia Neid and now Steffi Jones as too good to ignore for the national team. Germany added a first Olympic gold last year to two World Cups and eight European Championships, and their latest bid for glory is being fine-tuned from their Den Bosch base in the south of the Netherlands.
With so much to admire about the whole picture of German football, many have been trying to take inspiration or even replicate it. The women's team are currently ranked number two in the world and were top as recently as March, so what is Josy's take on why German national teams so routinely seem to find the answers to the conundrums a competition inevitably presents?
"We have this mentality where it doesn't matter if it's the 90th minute, we still have this belief, but in the way that it's not a fake belief," the four-time Frauen-Bundesliga winner explained. "Of course, (head coach) Steffi (Jones) knows how we Germans are – she played so she has that in herself – but she says we want a positive arrogance, and it's about enjoying, too."
"If you want to have one word, it's discipline, from beginning to end. This is what allows us to have fun and to bring everything else in there.
"Also, it's something we're working on right now, where the creativity is not lost through the discipline. When you break it down to the basics of each team, I think it's clear that France has the technique, and England has, for me, the physical, but they improved a lot and have a good mix."
In the past two years, notable retirements for der deutschen Frauen-Nationalmannschaften have included one-time captains Nadine Angerer and Saskia Bartusiak, as well as defender Annike Krahn, midfielder Melanie Behringer and striker Célia Šašić. With Euro 2017 looming, injury has deprived them of experience in combative Wolfsburg forward Alexandra Popp and Bayern Munich midfield pair Simone Laudehr and Melanie Leupolz, though they still have five in the final squad with over 50 caps.
In her recent interview on here, left-back Tabea Kemme, a close friend of Josy and a Champions League-winning teammate from Turbine Potsdam in 2010, described being completely unaware of the pressure in tournament games. Josy's mind state in such a scenario is centred on being very alive to the moment and the task in hand, but keeping it beneath the surface so that it works with instead of against her.
There is also the substantial safety net of feeling complete belief in those in her corner.
"I think every game, club or national team, I feel my heart pumping, and this is good, I need that. Without it, the worst thing to do is go on the field, because then you don't care.
"Football is a game where everything can happen, so you have to be awake. This is something that every sporting person will miss at the end of their career, because it's about winning and losing, it's about me and my team, and you will never reach that point in the gym or somewhere.
"But it's a team sport, so you look around and you're like, 'okay, she's there, she's there – what could happen?'"
Each team has their own individual and collective quirks and tendencies, which will help ensure that the upcoming Euros will be full of life, colour and drama. Striker Anja Mittag is undoubtedly lively, and also the one who packs Germany's playlist with dance tracks, but along with the seasoned FC Rosengård hotshot, who are the fun characters Josy and her teammates can depend on?
"Like I said with the discipline, if you tell us it's a time to laugh, we're totally fine, every one of us. If not, we're more like, 'No, first we focus, work and then whatever after.'
"With Anja Mittag, though, that's not so wrong, which makes sense because she's the DJ! I mean Anja and Tabea Kemme are really close friends to me, so I think we have a pretty good humour, and through the whole team we have that."
There could never be a better time to let loose than after climbing to the top of the podium at the greatest sporting showpiece of all, which was exactly what Germany did following their golden 2-1 win over Sweden at the Maracanã Stadium in August 2016. With the after-party hosted at a team beach house in Rio, there were many other German Olympians in attendance, bringing a spirit and atmosphere Josy was besotted with.
Her gold medal is a tangible reminder of what she and the team achieved over those weeks, even if it is less than immaculate now!
"I gave my medal away two minutes after we reached the party! It's like when a little kid comes to you and you're like, 'Aww, you wanna hold it?' and they're like, 'Can I wear it?'
"So at some point I was without my medal and I was walking through the party, there was this girl and I said, 'Oh cool, you won gold as well!' She was like, 'No, it's your medal!'
"By the end of the party, it had a lot of scratches!"
In an age where an overwhelming majority of players seem active on social media, Josy is admittedly one of the less visible. The 27-year-old doesn't court attention, but those who know her recognise a shiningly smart, creative and thoughtful person with that mix of professional drive, personal playfulness and lust for adventure that ensures however many countries she plays in, the memories and friendships will forever outshine the medals.
As well as cherishing the bonds she makes, the 40-cap international has a deep affection for the arts, which she now shares fairly consistently on her sole social media channel of Instagram. She laughs as she explains where that all originates from.
"Okay, well, my family is a hippie family! Hippie but lovely.
"My mom works in a theatre – she paints what you see on the stage – and my dad was an actor. They were both in my hometown in the theatre; I grew up in the theatre."
That hometown is Trier, Germany's oldest city and a place Josy is proud to come from and represent in all she does. In close proximity to France, Belgium and Luxembourg, the western city has a local dialect she smiles at not being completely head over heels for, but it's all part of what makes up the identity of where she was born and raised.
The footballing tracks were laid there for Josy and her younger brother, Valentin, as she recalls in fond detail.
"We lived in the city and we have like a palace garden; it's for everyone and it's pretty big. I played with my dad and he always had like 30-year-old friends, so I was the little one running around, kicking the ball.
"Eventually, my dad said, 'I'm sorry Josy, maybe you should have some teammates the same age as you!' We searched for a women's team and luckily there was one not far away, like 10-15 kilometres, so I started there and it was awesome.
"I tried so many sports; basketball, fencing, anything you can imagine. I tried everything, but not longer than a year, or half a year, but football went through the whole time.
"At some point, I got an invitation from Saarbrücken, you know when you live there and you sleep there? I tried that and it was good, so I continued.
"It was always a part of my brother's life as well, because he started as a goalkeeper, then he realised it wasn't his thing. I used to say 'you go in goal, I wanna shoot,' – makes sense because he's my little brother, so he has to follow!"
Having studied graphic design, Josy also has painting as an expressive outlet, and she's pretty impressive at it to say the least. In May, she launched a website, MyJosy.com, housing an absorbing range of work to date, but plenty more on that in part two of this.
When it came to the composing of her as an international footballer, she didn't play between Under-15 and Under-17, but briefly represented Germany's U-19s before winning the 2008 FIFA U-20 World Cup in Chile. Just ten caps away from a half-century with the senior side now, it is quite astonishing then that she didn't discover her national team for a particularly long time.
"When I was a kid, I didn't know there was a national team existing, and then I remember Michael Ballack, (Oliver) Neuville, and my brother always wanted to be Oliver Kahn. Then I knew, but I still didn't know there was a women's national team until I was 14 or 15.
"When I knew this, I was thinking 'wow, that would be cool,' you know? Actually, it was so funny, it was Steffi Jones who came to our little festival, and I got her autograph – I should look because it's still there somewhere!
"She was the first player, but I'm not the one who has jerseys from someone like Ronaldo. I enjoy the part with people, with teammates, and when you have something like, 'Oh my God, it's Champions League, we wanna win this together.'
"Of course you see the men's game but I'm not the one who has to watch the Bundesliga every Saturday; I have different stuff."
Something else that Josy and her brother have always had in common is a connection to music. Her design studies and artwork, as well as her piano playing, have linked in with specific junctures of her career, and from a melodic perspective, she describes how strings and keys are almost like extended family members.
"Well, when I started with football, my mom said 'don't you wanna do a music thing as well?' I wasn't sure, but we always had a little guitar when we were really little and it was always a part because we grew up in the theatre.
"I just wanted to play football, but then I started with piano and thought 'that's ok.' Then it got more into having hours of practicing and I was like, 'No, I want to go outside and play with the boys.'
"My brother started guitar and he was singing in a choir, so that's how it started. Then after I think eight years, I said, 'Okay, I want to play football, I want to have time for different things,' but I'm really thankful I took those eight years.
"My brother's awesome with the guitar and singing and he's working on an album right now, so I'm a proud sister! He taught me the guitar and I taught him a little bit of the piano."
Josy's piano-playing posts on Instagram include famous compositions like Beethoven's 'Für Elise', as well as some freestyle. In general, vastly different styles come together to form the puzzle of her listening choices, and again, there is special familial significance to be found in there.
"That's a mix, because when I played the piano, you had these little festivals with everyone who studied there, where all the families come and you play your thing. You had to play classical, and I hated it, but right now, I love it; it came back to me because now I don't have to play it.
"I listen a lot to that. I love musicals; Billy Elliot, with 'Swan Lake' at the end – love it.
"Also, I love Otis Redding, Sam Cooke – a little bit older stuff! I love a little bit of country sometimes – Josh Turner, Keith Urban – and then I also love Spanish music because my mom lived in Spain, my grandpa, my grandma, and my uncle was born in Madrid."
UEFA Best Women's Player in Europe, Ada Hegerberg is among the teammates to have expressed a liking for the classical music Josy plays and posts. In truth, that could hardly be further from the r&b and hip-hop Josy would have heard in the changing room and when travelling with Arsenal, although that also serves its purpose.
"I can enjoy that as well, and for some situations it's the perfect music, because you just need a beat. Everything that has a beat makes me move, except techno and heavy metal – I think that's not music."
A childhood around the theatre means that Josy was amongst performers long before her feet could even come close to touching the floor when she sat at the piano. She knows what it's like to be the one creating music for people to hear, so what about as an audience member?
"That's funny because I always wanted to go to the concerts and it's my brother who gets to go! So I book the tickets and he goes – Michael Bublé, John Mayer – he films and we watch after.
"There's a singer/songwriter contest in my hometown and my brother films and photographs, so I'm always there to see him. I love it because it's raw, but it's just nice, and I love that in England as well, because a lot of places have open mic or something."
Josy's February 2016 move to Arsenal came off the back of almost two years at PSG, which included her finishing a Champions League runner-up in 2015. Back in November 2014, she had played in the notable Wembley friendly in which Germany were far too much for England at that point, featuring in the whole of the 3-0 win with 45,619 there.
That attendance set a home record for the Lionesses, despite weather and transport problems in and around the capital meaning thousands who reportedly had tickets didn't attend. It won't come as a shock to know that Josy was a winner when she played there again in the FA Cup final last year, as Danielle Carter's goal was the difference as Arsenal saw off Chelsea.
However, company carries more value than cups for Josy, and in the multi-national Gunners ranks, she found it a wonderful but very definitely wild mix!
"I lived in a house with five people and then I lived together with Alex Scott. That was better because we're more like the same age, but with the young ones, it was Katie McCabe as well, and she's Irish, so in the first three months I learned more Irish than English!
"That accent – oh my God. With Emma Byrne as well, and Mitch (Emma Mitchell)…Irish and Scottish people are crazy!
"Then the Dutchies, they're a little bit crazy as well. I think it's so nice that you get to know the mentality of every country a little bit.
"I mean, everyone's different – I'm not typical German, I would say – but that's nice."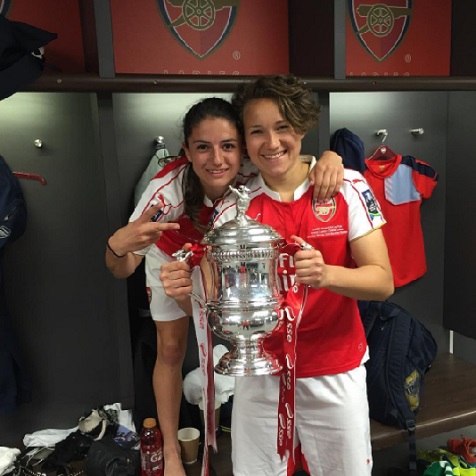 At Josy's 'typical German' mention, we touched upon how the perception of many in England seems to centre upon a largely methodical, perhaps serious, national identity for Germany. I made the point that it's not necessarily a fair one, as everyone has their own individual personality, but Josy concurred with it.
"No that's 100 percent true; we're strict, we're disciplined. When I spoke German with a friend, Katie or Alex always said, 'Oh my God, I thought you were fighting the whole time, because it's so loud and angry,' and that was basically just a talk with my mom to say 'hi, how are you doing?'
"Not everyone is the same but I would say we like it to be organised, so, if you come to France, and we say 'meeting point, ten o'clock', no-one is there at ten but Germans. In France or Spain, or England as well, it's more laid-back – 'we'll try ten o'clock but if it's two minutes or ten minutes past, no problem.'
"One thing in England is you moan – you moan so much, it's unbelievable! It's not even that bad, and they know it's not that bad, it's just routine – 'Oh God, there's no coffee!'
"We're strict but we don't moan a lot. In France, they say 'ah yeah, it's gonna work,' but we're like, 'Okay, but what time do we have to be there?'"
Admiring what Arsenal manager Pedro Martínez Losa is building, Josy says it was enjoyable for her to have young players at the club she could help. In that aforementioned Wembley clash between England and Germany, she saw one of them, Gunners midfielder Jordan Nobbs, hit the bar after just eight seconds with a ripped effort from range.
The 24-year-old was the first name she mentioned when talking about the mix of promise and experience her former team has, describing her as an 'unbelievable talent'. Josy's time with the North Londoners is one she'll continue to reflect on fondly, and besides regional accents, there was something equally contagious she picked up.
"You know the 'x' they put at the end of texts, for a kiss? I didn't know what that means and I was like, 'What is that? There's always an 'x' or three of them!'
"So, at some point, I just started to do that, so when I came to Germany with my national team I continued doing that. I think it was Anja (Mittag) who said to me, 'What is that?' and I'm like, 'I don't know!'
"I just kept doing it. In the end, I knew what it was, but I gave a lot of love without knowing!"
In Part Two, Josy takes us to France, with glitz and glamour to follow the glory as Lyon were whisked away in a whirlwind after their Champions League shootout win in Cardiff last month. There is another alternative look inside her artistic mind's eye, as well as more of teammates, music, and life in a league that boasts two of Europe's biggest club names, but attracts criticism for the drop-off outside the top three. All that and more to come!
To catch each of these interviews, you can follow me: @chris_brookes
You can also like the Facebook page and stay up to date!