Jon Stead interview: From Yorkshire with love – Open roads and private tracks, to 'Jon's own country'
Via a Premier League past and no shortage of reputable clubs, Jon Stead's 18th season brings the Huddersfield lad back to Yorkshire again, this time with ambitious Harrogate Town. Despite over 150 goals and a few million in transfer fees, he hasn't strayed far from his roots, though he has found something from afar he feels perfectly in tune with.
As the days of the 2010 summer transfer window ebbed away, Bristol City announced the signing of Jon Stead on a three-year deal. Brought in from Ipswich Town, the then-27-year-old offered the Championship side plenty in the way of experience, and he would also finish as second-top scorer with nine goals.
The Robins had been pursuing the frontman earlier that summer, during Steve Coppell's brief tenure, and the interest continued as Keith Millen stepped up to take over. While the former Huddersfield Town star's credentials were no secret, what they may not have known is that they had a man willing to step up for the truest of pressure situations – not as penalty taker, but playlist controller, of course.
The one-time England Under-21 international spoke upon joining the club of looking to settle down and find more consistency, and as his Robins teammate Martyn Woolford revealed on here in 2011, he was ensuring it was Steady all the way in the dressing room! So has the recent Harrogate Town capture typically found himself in the figurative team DJ booth through his career?
"Well, not very often," he explained. "It's normally when someone's phone's dead!"
"I don't put a lot of what I want on, I just put on what everyone else wants to hear, whether it's the latest r&b and hip-hop, or dance tunes and stuff like that, I stick all that on. I think probably the last six or seven years, every club's tried to keep me well away!
"For me, it's either 80s classics or 90s pop and club tunes; stuff from the days of when I first started going out. Either that or it's country, because I'm a massive country fan, and nobody's interested in listening to that, apart from me.
"Even if we have a car school I turn it off on my phone, but as soon as I've got an empty car it's straight back on!"
Figuring exclusively in each of English football's top four divisions in the 17 years since his professional debut with Huddersfield, different spells in his career have cast him in different roles. The much-talked-about young Blackburn Rovers striker taking to the Premier League with ease ultimately became the wiser head leading the line for Notts County.
Holding his own in such an unforgiving game, with its expectation, spotlight and demands, has let the striker learn much about what works for him. That may be rest and recovery-related, for example, but it applies very strongly to music, too.
"I've got a few bands that I'm listening to at the minute, so one is Old Dominion, Florida Georgia Line, Chase Rice. The brilliant thing is now, on Spotify, they've got a complete country playlist on it.
"There's a playlist called 'Chillin' On a Dirt Road', so I just listen to that! Or 'Country Coffeehouse.'
"Nobody'll have ever heard of them, but I like them, so I stick with what I like."
For a West Yorkshireman whose day job has most often surrounded him with a soundtrack of modern r&b and the like, a southern style from across the water is obviously quite the contrast, so was it on holiday in the U.S. that he took a shine to country?
"Yeah, that was it really, because I love America. I love going to Florida with the kids and it's somewhere that I could have seen myself living at one time.
"I think being out there, every station's got a really strong country vibe to it, so I started listening to a bit out there, probably six or seven years ago, and since then I've stuck with it really. In the last couple of years, it's coming over here now; there's a country station on DAB.
"It is becoming a bit more popular and a bit more mainstream now, with collaborations and stuff. People are getting a bit more into it, and I'm not sure if I'm happy or not!
"I was quite happy with it just being my thing!"
Telling of how he still feels in fine fettle, the pre-season training and action shots with Harrogate would certainly appear to back that up. While little at all seems to have changed about Jon's fitness and physical shape, as described, his listening choices probably provide the starkest area of development!
His recollection of the first albums he remembers buying manages to brilliantly hammer home the point that bit further.
"I can remember getting the 'Pure Garage,' four CDs it was in a box, a blue box. It might have been 'Pure Garage 4,' with Shola Ama on and 'I'll bring you flowers' (Sweet Female Attitude 'Flowers') and all that.
"There was that, and I can remember buying 'The Chronic' (Dr. Dre) as well! I think that was probably one of the first ones."
On the mention of UK garage, the Cypriot destination of Ayia Napa was synonymous with the genre, as well as the favoured place for so many footballers to disconnect at the end of a season as the 90s began making way for the 2000s. A time free from social media and camera phones, it has been the source of huge nostalgia in interviews on here over the years.
Given his UKG liking at the time, which coincided with his career's beginnings, did Jon ever make the party pilgrimage to Napa?
"I didn't, no, but I can remember my first lads' holiday – I was 17 and I went to Malia. God knows how, I'd never do it now, but I had two weeks in Malia with all the youth team lads from Huddersfield and I was absolutely brassic as well.
"I was borrowing money and I even took a toastie machine with me! We were only on about £40 a week on the YTS (Youth Training Scheme), so every night, lads were going out and having meals and I was having cheese and ham toasties in the room before we went out.
"Obviously I look back to those times now, when you're doing alright and you're comfortable, and think 'I've done alright now'!"
Racking up 18 goals for Huddersfield in the first half of the 2003/04 season, Jon's January move to Blackburn swiftly upgraded him to dreamland territory, as he notched winners against Middlesbrough, Fulham, Everton, and perhaps most memorably, Manchester United, all within his first 11 games for Graeme Souness' side. Helping propel Huddersfield into promotion contention that season – the Terriers would go on to win the Division Three play-offs – the last half-dozen of his 24 goals had a vital hand in keeping Blackburn in the Premier League.
As well as becoming an instant hit at the top level, he found himself alongside teammates such as a World Cup semi-finalist from two years previous with Turkey, and one of Manchester United's '99 treble winners. They are the two most vividly in the thoughts as he is asked about players who showed him a new approach to the game, or who just simply did things differently.
"Yeah, I've mentioned him before, Tugay – I think one of, if not the best player I've played with. I wouldn't say he kept himself to himself, but he went about his business, did what he needed to do, loved the game and played really freely, whether it was just little boxes in training, or anything, there was such a relaxed spirit around him.
"The other one is Dwight Yorke, he was the same. Always had a smile on his face and enjoyed his football, did what he wanted, had that experience, had that confidence and an air around him.
"He was another one who was great to play with and work with, just to try and get that calmness from him. As a young player, you seize up sometimes when things aren't going right and get nervous and wonder if the older lads are going to have a pop at you and stuff.
"He was such a free spirit player, he just enjoyed every minute of it. The players I looked up to before I was even kicking a ball were the likes of Ian Wright who just played with a smile on their face; every game, loved their football, really expressive in what they did.
"I always thought if I ever made it as a footballer I wanted to enjoy every second of it, because I know how privileged a career it is."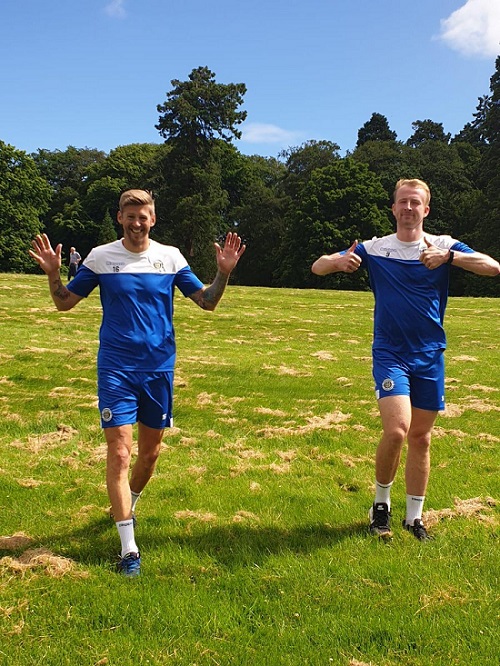 An up-and-coming player alongside Jon at Blackburn who has since gone on to have 15 years (and counting) in the top three divisions is Paul Gallagher. The Preston North End midfielder earned a mention as Jon was asked which career teammate(s) he would choose to record a song with (if such a situation ever presented itself…).
A former Barnsley and Coventry City midfielder, and a teammate of Jon's at Notts County, was his other suggestion.
"I think one of the best I've heard was actually last season – Jim O'Brien. He loves it, he plays a bit of guitar, so I'd probably go with him, or someone like Paul Gallagher.
"He's quite nifty with the guitar and he posts little videos of him singing. Probably one of them two really; they can do it all and I can just stand in the background!"
Nevertheless, Jon hasn't spent time with 12 clubs without having to brave a singing performance in front of his fellow pros here and there. When the initiation spotlight has fallen upon him, he hasn't been afraid to mix it up.
"I've done a few; I'll obviously have another one coming up as well. I've been through everything; I've done some Oasis, I've done some r&b tunes, a bit of Justin Bieber.
"The last couple have been a bit of Motown; Smokey Robinson (and The Miracles) 'Tracks of My Tears.' I normally throw that one out.
"Nobody's ever heard of it, there's only the staff singing along because they're the only ones who know what it is!"
On that very note perhaps, he is among the players to have found themselves as a bridge between generations. Immersed in 'modern football' as we speak, he was also moulded during a markedly different time for the game, as his YTS recollection shows.
Emerging at Huddersfield to play for the club in Division Two and Three (now League One and Two), he was back there in 2013/14 in the Championship, and of course has watched on as they've tasted the Premier League in the past couple of years. The former Honley High School student was in the crowd for one memorable evening at the McAlpine Stadium (as their home ground was then known) in July 1995 – and it wasn't for the Terriers on this occasion.
"I'm not a massive fan of all these festivals and stuff; I could never go to Glastonbury, it's not really my thing. It'd just annoy me, I think, but going back over the years, I've been to some gigs.
"I've seen Beautiful South and R.E.M.; I remember going to see them when I was a kid at the Huddersfield Town ground. I've seen Justin Timberlake in Manchester, I saw Jay-Z at The Prince's Trust in London; these are going back a while.
"In October, I'm off to see Old Dominion in Manchester; that's one I'm looking forward to, a country gig. Apart from that it's normally my wife who'll go with the girls and see Little Mix and all that.
"I leave them to it – I stay at home with the dog!"
Although it affects people to varying levels, music is that emotive and evocative thread linking different times, friendships and places. When he reflects, does Jon feel it has had a significant part to play in his life, as an athlete and competitor, and also when that everyday person comes back into focus?
"I'd probably say so, because I do like listening to the stuff in the changing room before a game, and if you haven't got it on, you really notice it, if it's one of those dressing rooms where there's no music on and no atmosphere. It does make a big difference and it can change your mood quite quickly, with what you're listening to.
"I think as well a lot of football players, as soon as they get in the car and they've got a commute to training or games, they start going through their phone book and just ringing people. Just having a two-minute pointless conversation with one of the lads from one of the clubs they've been at, put the phone down and then literally go on to somebody else!
"I've never really been one for that. I keep in touch with the lads who I've been through stuff with at clubs, and if I ever bumped into anyone I've played with I'd still have a good conversation with them, but I do like getting in the car and just putting on music and just relaxing really.
"I think when you've got a busy household with the family and stuff it's nice to get in the car, shut your mouth and just have music on! For me now, as I say, that's my country playlist, and I drive a Ford Ranger as well, so I probably look like I should be in America as well.
"That's nice to keep all my equipment in the back when I'm coaching."
Through his Jon Stead Striker Academy, Jon works to pass on tips and techniques to 7-15-year-olds. Should he continue to pursue a future in coaching, pointers on how to gain an upper hand on a defender – or how to rifle home one and expertly set up a couple for Bradford against Jose Mourinho's Premier League title-bound Chelsea – will most definitely come in handy.
Advising on how to handle the hardships, the scrutiny, rejection, and all the rest that football brings, however, will arguably be even more pivotal. Savouring the highs is therefore essential, so where has Jon felt the happiest in his career so far?
"Do you know what? There's not many where I've not been that happy; I've enjoyed really good spells with most of the clubs I've been at.
"I had a difficult time at Sunderland, and I think that was probably the most difficult spell, coming off the back of two fantastic seasons, with Huddersfield and then going straight to Blackburn. I was on a real high, and then you go to Sunderland and have a disappointing spell and it was a bit of a shock to the system.
"It probably took me a little while to get over that and work through it. Since then, my spells at Sheff United, Ipswich, Bristol City, all fantastic clubs, great people, and thoroughly enjoyed my time there.
"Even looking back to Notts County, the way it finished (with relegation from League Two last season) was obviously a huge disappointment, and a lot of things went on at the club in the four years that I wasn't expecting to happen, and stuff that came up which wasn't in the script when I signed there, but even in those four years I had some fantastic times and made some really strong connections with the fans, the people of Nottingham, the ground staff, the office staff. It was still a very, very good club, and I loved working there, it was just such a shame that I had to leave at a time when it was a real low point.
"So across my career, I think I've been lucky enough to work with some great people, some great managers, and good staff as well."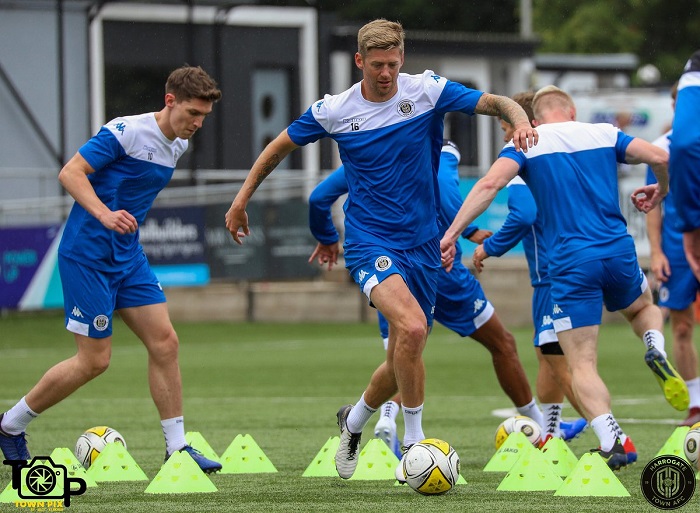 As he alludes to, Sunderland undoubtedly forms a significant piece in his career. Alan Curbishley's Charlton had been interested in bringing Jon in from Blackburn before later signing Darren Bent, but it was indeed a move to Wearside in summer 2005 to join up with Mick McCarthy's newly-promoted Sunderland.
The former Republic of Ireland manager had tried to sign him the previous January, but the then-second-tier club lost out to top-flight Blackburn. When he did arrive, it came with the pressure of leading the line for a team returning to the Premier League, in truth, without the budget to really compete.
That generally means few chances for the strikers, further ramping up the demand to take the ones you get, no matter how clear-cut. Sunderland's season yielded just 15 points, leaving them 23 from safety, with 26 goals and 69 against.
Collectively, they found themselves well short at the top level, and for Jon, there was just the one goal (at Everton) for a young talent who had oozed finishing confidence in the same league just a couple of seasons prior. Only 22 years old at the time, he recalls the soul-searching he went through as he tried to find answers.
"It was a bit of a shock, because I'd come from playing regularly and scoring regularly, then gone straight to the Premier League and done the same, and then had a difficult probably last six months at Blackburn, in and out of the side and not really sure what was going on. Then the move on to Sunderland, obviously it's a massive football city, the demands are high, 45,000 fans there every week.
"I don't know. I don't know whether it all just caught up with me a little bit, although I wasn't disappointed with how I was playing, I just wasn't getting the goals that were expected of me.
"That was the difficult bit, and then you go through the different stages of, 'Am I doing the right things in training? Do I need to do more? Am I in the mindset where I think I've made it and I'm a Premier League player now, so I don't need to work as hard? Am I going out too much?'
"You kind of run through everything, and it got to a point where I just felt I needed to be away from there and have a fresh start, and luckily, I jumped straight into the Premier League again with Sheffield United, and to kind of hit the ground running with them was a real sort of lifesaver for me. If I'd have gone to Sheff United and had another barren spell I don't know how they would have reacted to that, and my career could have took a downward spiral quite quickly.
"To go there and score and have the backing of (Neil) Warnock, a fantastic manager, a good club and scoring regularly again, it really kickstarted me off. Then the Ipswich and Bristol City spells that followed were really good for me."
His early Blackburn form had not just shown his capabilities, but also sprung open the door to the England Under-21 squad. The list of people tipping him for a senior international future included Sven-Göran Eriksson's assistant Tord Grip, and as the 2003/04 season drew to a close, an outside shot of making the Euro 2004 squad was mooted.
Jon told BBC's Football Focus at the time: "A call could come on Monday, you never know. But at the moment, my holiday is booked!"
He laughs as he's asked how the 2004 Jon is different to the 2019 version.
"Well I like to think I've learned a lot more. I'm still nowhere near the complete player and I think you realise every year that goes past that you're still learning, you're still making mistakes and meeting new people.
"I think my hunger for it hasn't changed. I still love going in every morning; I think that's why I'm still playing at this age after playing for so many different clubs.
"I still love it. My body's fine, so I think it was always going to be a point where I'll stop when I'm not enjoying it, and I just really don't think that point's come yet.
"Although I might be a little bit slower, I make up for it in my appetite for football. I always give 100 percent and I think as long as you're doing that then you always get the respect of your players and people around you."
Nobody could have begrudged him stopping to bask a little in being that young Premier League footballer making a big impression. Although never one to get overly carried away with the trappings of pro footballer status, does he look back with a smile or a shudder at any extravagant purchases he made once upon a time?
"I've been brought up that (grounded) way really. I don't think my parents or the people around me, my friends who I'm still mates with now from before I even started playing football, they wouldn't allow that.
"Obviously, you live to your means, don't you? If you've got some good money coming in then you treat yourself now and then and the people around you.
"You make some purchases in your younger years, whether it's daft watches or expensive cars, but those things come and go very quickly. I think once you start your family – I've got two kids and people that depend on me – then the tight Yorkshireman comes out more and more often now!
"I'm just making sure that we're set so I can do my bits of coaching and enjoy myself and look forward to semi-retirement really. Those days still feel like a lifetime away and it's not something that I'm even contemplating yet."
While it's his first taste of non-league, he most definitely hasn't arrived at a club content with treading water. Off the back of promotion to the National League in 2018, Harrogate Town were play-off quarter-finalists in May, and Simon Weaver has significantly strengthened his side again this summer.
As he offers his impressions of the Wetherby Road club so far, Jon confirms that with a double session earlier that day, 2019/20 pre-season has brought no drop-off in intensity from what he has been accustomed to.
"No, well first impressions are fantastic. It's a really well-run club, it's a very close-knit club, which is nice to see.
"There's a lot of people doing multiple jobs and everybody's mucking in. The group of players as well, we all help each other out, help with washing our own kit and cleaning the changing room.
"Just little bits and pieces like that, which have been a big part of my career from my early days, with the YT system. We had to do everything, all the jobs and stuff, so that's not an issue for me whatsoever.
"So yeah, impressions have been really good and I'm really enjoying it, but it's up there with one of the toughest pre-seasons I've experienced so far."
Feeling he has thrived most when there has been a positive and honest relationship with his managers, Jon identifies as a player who doesn't need regular praise, also suggesting that he appreciates being alerted to an area he needs to work on so he can get straight to it. The names of Peter Jackson (Huddersfield), Kevin Nolan (Notts County) and Neil Warnock (Sheffield United) are leading examples he cites.
Indeed, he has experienced a huge amount through the game, and with the backdrop of thousands in stadiums watching on as he has gone from teenager to mid-30s. So, what has he learned the most from it all?
He laughed as the question reached him like a pass with slightly too much weight on it, but had plenty to put forward all the same.
"That's one to spring on me! Learning about myself, I'm a lot more patient now; I don't react to things instantly as much as I used to.
"The other thing is you learn to try and trust people a bit more; it's the type of industry where that can be really difficult, whether it's teammates or coaches or staff. You've got to kind of leave yourself out on the line a little bit to try and get honesty from people.
"I know it's a cutthroat business, I think I've learned that more and more as years have gone on. I think probably look after yourself a bit more, to a certain extent, and in that I mean making sure you're looked after before you're going looking after other people, because clubs are the same, at the end of the day, they look after themselves rather than sticking their neck out for players.
"I think I've learned to be a little bit cautious, but at the same time, give everything back, because the clubs pay your wages and they're the ones that fork out and show that passion to try and get you to the club, so it's only respectful that you give 100 percent every day to warrant that kind of contract."
He always said he set out to play with enjoyment and never lose touch with that, so a scenario built on that very way of thinking is where we finish here. A fantasy 5-a-side game, with a sample selection of four teammates from his career to fill his line-up. No emphasis on picking the best he has ever played with, but rather just examples of those who would bring quality and fun.
"Keeper, I'd go David James, just because he's an absolute character. A real eccentric; bit weird, but heart of gold!
"Someone who's got great things to say as well; when somebody talks and they're really speaking what's right and you just listen. Matt Tootle and Elliott Hewitt, they'd both go in because they were great lads who I was with at Notts for the majority of the time I was there.
"They'd be my partners for a night out as well, so I'd keep them in for the social side. Then I'd stick Tugay in all day long.
"He was the absolute king at anything small-sided and in tight areas. How many's that? (Told he's got his four selections but can choose a sub)
"Billy Sharp, we'll get him in, ultimate goalscorer. He'd probably play instead of me!"
To catch each of these interviews, you can follow: @chris_brookes
You can also like the Facebook page