Jazmine Reeves interview: Rookie and out, but Hokie for life – The harmony of sentiment and contentment for former Breakers forward
Both individually and with her team, Jazmine Reeves was part of school history with the Virginia Tech name beside her, before sparking impressively in a debut professional year with the Boston Breakers. Although the former forward's decision for a future away from the field meant that her career was ultimately something of a one-album deal, there were hit moments made on the way that won't ever stop spinning for her.
Possessing considerable athletic capability, the Jazmine Reeves who made her way up on the soccer pitches of Delaware gradually began to blend her searing pace with the kind of awareness and attacking threat that hinted at a potential future in the sport. Virginia Tech would be the base for four years of college the San Bernardino-born player came to cherish, with a senior year on the field for the Hokies that saw her explode out of the wilderness and onto the radar of many.
In 2014, she became the first player out of VT to be drafted by a professional women's soccer team, as the Boston Breakers took her in the third round (21st overall) of the National Women's Soccer League (NWSL) College Draft. After biding her time for a chance, she racked up seven goals in her debut year, so news of her retirement at the end of that season brought understandable surprise.
Over two years have passed since she began a role with Amazon she felt was too good to miss, giving the now-25-year-old opportunity to reflect on her soccer voyage with multi-layered perspective. The history-making Hokie explains how the prospect of a non-playing career had arose prior to that 2014 season.
"I knew that I had the job offer before I started playing, I think before I even entered the Draft. I told Amazon, 'this is what I'm doing, I'm going to be playing soccer until August, but if you're willing to wait until then I'd appreciate it,' and they were.
"I think I met them at a career fair on campus and then once I saw the season progress I was able to make my decision. I think the Breakers were overall supportive; I think they were a bit surprised because I didn't bring it up until a day after the season.
"I didn't want to bring it up prior to that and have them think I wasn't invested in the team, because I was, 100% until the season was over. At that time, I didn't know what was going to happen with soccer past that first year, but I did know what would happen if I accepted this job offer."
With the NWSL racing ever nearer its fifth season, no rookie as yet has surpassed or even equalled the seven regular-season goals Jaz managed in 17 appearances (13 starts). The number seven who put three past legendary Germany keeper Nadine Angerer (FIFA World Player of the Year at the time) as the Breakers shocked the Portland Thorns 4-1 in May 2014 describes both the similarities and differences in her present-day field.
"I joined Amazon as the area manager and the fact it was fast-paced appealed to me; I wasn't going from being an athlete to being at a desk. I ended up transitioning to university recruiting, which is what I do now.
"I go to a lot of universities and interview events hiring college students to come work for Amazon as entry-level managers, some HR positions and some other things. I travel a lot to universities or to Seattle, where my team sits, but I work virtually in Maryland, which is a great gig.
"I work from home every day, I get to travel, meet a ton of people and still feel like a college student sometimes when I go on campus!"
Alongside her landmark individual feat of going pro, Jaz was a key part of a historic time for her Virginia Tech team. VT had been more accustomed to lower-half finishes in the Atlantic Coast Conference (ACC) before Charles 'Chugger' Adair led his charges to a very first NCAA College Cup appearance in 2013.
The Final Four was where their road ended against Florida State, but it had been quite a journey. In her senior year, Jaz had superbly rediscovered the promise of her earlier collegiate career, hitting a joint-team-best (with Murielle Tiernan) 11 goals, with five assists.
Whether it was the pregame 'Tsunami' (by DVBBS & Borgeous) for the Breakers at Harvard Stadium, or the tracks that shook the Virginia Tech locker room, music is every bit a touchingly nostalgic piece in her soccer story as the jerseys she managed to set aside. She takes it back to those Hokies as she remembers how songs could set off a new wave of energy and togetherness within their team culture.
"I feel like every year there was like a theme song that was a part of the locker room. Our senior year, it was 'Timber' (Pitbull featuring Ke$ha).
"I can't even listen to that song now because it just makes me reminisce and miss those days! There was definitely music all the time and some girls who would dance and have a good time with it.
"I don't think I was ever a dancer! Maybe a couple times, but I was probably more of an observer than anything."
Just like how Metallica's 'Enter Sandman' rocks the speakers before a VT sports team steps out to play, Jaz's collegiate career was her prelude to entry onto a big stage. At Boston, her chance took time to come, but her Portland hat-trick made everyone take note of who she was.
In a team that never really managed to kickstart its season, she was one of that year's NWSL gems, and although that sophomore season wasn't to be, she carries a feeling of gladness that she tasted life in the pros. The way Jaz took some of her goals might give the impression that it was a seamless adaptation all-round, but the year was certainly challenging, so she gives special thanks to those who welcomed her.
"I got to step on the field with so many players I'd watched on TV and it's really awesome to say I've shared the field with these people. I think generally it was pretty tough.
"My host family made my experience so much better; if I didn't have a host family that was as welcoming and that I connected with as much as the Capplis family then my experience would have been a lot tougher. I still wasn't too far away from my family, so my dad got to come up a lot.
"I really liked the city of Boston, but it was just generally (a case of) getting going in the season. Not playing, adapting, I still wasn't 100% sure I wanted to be playing soccer still, so a lot of those things made it pretty tough, to be honest.
"I think meeting my host family and getting to know them was something that really helped me to get through it."
That aforementioned Portland game in which the Breakers swept aside a Thorns team that would finish five places higher was the night Jaz shone. On a late-May Wednesday night at Harvard, Tom Durkin surprised many when he made multiple changes to his starting line-up, with international players Heather O'Reilly, Lianne Sanderson and Kristie Mewis all on the bench.
It was Boston's eighth game, and with just a solitary start and 86 minutes of play to her name, Jaz was one of those given their shot. Alex Morgan made a long-awaited return to the bench for the Thorns, and although the U.S. forward wouldn't come on, Paul Riley still had a side brimming with quality.
Canada legend Christine Sinclair led the visitors' attack alongside the in-form Jess McDonald, but the Breakers would barely give the likes of Allie Long and Sinead Farrelly in midfield a second to breathe on the night. Starting the scoring by setting up a fellow rookie in Canadian forward Nkem Ezurike, Jaz would send three efforts of her own beyond Thorns keeper Nadine Angerer, a player who had spectacularly led Germany to the European Championship less than 12 months before.
Sinclair buried a low shot past Alyssa Naeher late on but it was merely a consolation in a 4-1 victory for Boston and a night that really belonged to Jaz. Almost three years on, it still feels akin to an out-of-body experience for her!
"I think there was a feeling on our team that hardly any of us playing that night had touched the field that season, so what really stood out to me was we went out there and we were super blue-collar in what we did. Probably it was that we had something to prove and the hard work kind of brought me back to Virginia Tech.
"Everything else is really a blur; I felt after the game like 'that wasn't real.' I don't know how those goals happened.
"Like the last goal, with me kicking it with my left foot near the 18 – I can't even kick it with my left foot so that's something that never happens! I don't know what came over me or how any of that happened.
"I think after that third goal I was like, 'what's happening? This isn't normal to me.'
"It was super cool to be a part of."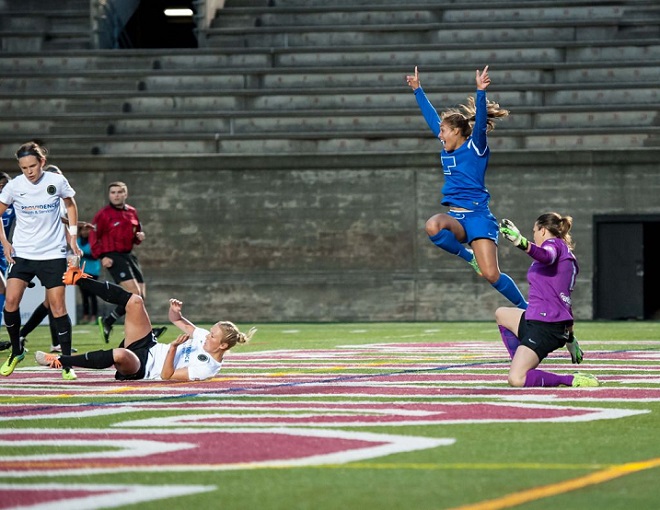 In musical terms, Jaz came back with follow-ups in the games to come that demonstrated she wasn't just a one-hit (or three-hit?) wonder. Goals came away to Sky Blue FC in New Jersey, at Washington Spirit and at Western New York Flash, before she struck one more time in a topsy-turvy 4-3 home loss to the Flash in the final month.
While the Breakers did win six of their games, the team finished second-bottom (8th) and were 15 points back from the playoffs after being just six away in 2013. Aside from the admittedly crucial loss of 11-goal top scorer Sydney Leroux, does Jaz have any thoughts on why a team that was so close to making the postseason in year one struggled so much?
"It's kind of hard to pinpoint and I don't know if it's fair for me to compare, but at Virginia Tech I really felt a sense of 'team'. We all hung out, we were obsessed with each other and that chemistry translated onto the field.
"On the Breakers, everyone liked each other and there were definitely no problems amongst the teammates, but I never really had that feeling we were a real team. Maybe that's just generally how it works when you get to that level; you don't spend as much time together or go to classes together, people are getting traded and it becomes more of a business.
"I think it was hard for us to translate some consistent chemistry onto the field, which may have had an impact."
For its testing elements, the year wasn't without its enjoyable moments, and the one mainly in charge of the soundtrack to Jaz's pro season was an England international who definitely qualifies as an adopted American by now. More than just having her input into the tunes, the ex-Arsenal star left a lasting impression on Jaz.
"It was usually Lianne (Sanderson) who had the newest songs, she was always dancing. I would say it was probably her more than anyone else.
"She's a super special person. I think she's really cool and she always finds a way to create something special, on and off the field.
"I think she reached out to me when I got drafted, which I really appreciated. I don't know why but her voice is so much different than I would have imagined!
"She came in to preseason and you could tell that everyone who knew her really loved her and she was just always very positive. She's obviously very skilled but she was someone you could always go to; she was always relatable and would connect with anyone on the team."
As Lianne's own music/soccer interview on here indicated, she was on the same page as Jaz when it came to her sound choices. Everyone's listening background is unique, and Jaz had a certain teen pop/Murder Inc. mix when she was growing up!
"I'm a big Beyonce fan, also Rihanna, Drake, but I'm pretty open. I like basically any kind of music except country, I don't know why.
"My favourite genre is probably r&b. I'm really embarrassed to say this, but the only CD I remember having when I was young and listening to all the time was this Ja Rule CD.
"I remember having the little like disc player, Walkman, and I would walk around my brother's wrestling tournament listening to it. I was definitely into *NSYNC, Backstreet Boys at a young age, but my all-time favourite I've always listened to consistently is Beyonce.
"I saw her in concert for the first time last summer. It was amazing."
When the speakers are pumping and the game-day vibe is simmering, a locker room can almost take on a piece of that festival crowd scene, and never more so than after a win. One such time above all others comes to Jaz's mind when she thinks back to the most euphoric celebrations she has ever enjoyed.
Having scored five in 2010 to make the ACC All-Freshman Team, she had notched five more with a team-leading nine assists as a sophomore to earn accolades including All-ACC Second Team and All-Academic Squad recognition. As a junior in 2012, she scored four and set up four in a year that saw her net in the NCAA Tournament encounter with Georgetown, but VT lost that first-round clash in overtime and something had been missing for Jaz as she had just four starts from her 20 appearances.
After putting in the work over the summer, she turned the volume right back up and came out fit and firing for her senior year. The season took the Hokies all the way to the Final Four, but a Friday night in November 2013 had already encapsulated what that team shared.
In the movie that was Jaz's college career, many future NWSL cast members had a cameo, with the number-one-ranked Virginia team the Hokies beat 4-2 in the ACC semi-final a perfect example. Ranked number five, VT handed them their first loss of the season and snapped their school-record-setting 20-game winning streak, with Jaz scoring twice in the first half in Cary, N.C.
Emily Sonnett and Makenzy Doniak were the scorers for a UVa team that boasted further future NWSL quality in Morgan Brian and Danielle Colaprico, but Murielle Tiernan and Katie Yensen's goals ensured the Hokies were the ones celebrating a rare win over their rivals. Jaz, who'd headed a winner over current Houston Dash coach Randy Waldrum's Notre Dame in the quarter-final, has the sights and sounds of that evening still cascading through her memory.
"The one that we celebrated the most, I think was the night we beat Virginia. We all kind of freaked out and had a good time; we were super excited that night.
"I think when I played for the Breakers, it wasn't a celebration that stands out, but a game in Kansas City where we had a really long weather delay. We were all having a good time, trying to pass the time until we went back out onto the field; people were having some fun and dancing around."
In that 2013 run, Santa Clara were eliminated by the Hokies at the NCAA Tournament's third round before a 3-0 home victory over Duke at Thompson Field in Blacksburg sent them to the College Cup with 'Timber' ringing out over the stadium PA. You always have your team DJs, but would any of Jaz's old teammates be at home with a mic in their hand?
"I don't know if anyone was like legitimately super talented, but I would say Julia Goldsworthy from Virginia Tech could remember any lyric and rap any song as fast as she could. She could perform all the words, all the time.
"Kelly Conheeney, she was a big singer; she had a decent voice but she would sing like really fun, Disney songs in the shower that we'd hear in the locker room!"
New Jersey-born midfielder Conheeney is ensuring that the NWSL is still decorated in some Hokie maroon and orange. Going three years and seven months from the start of her senior year before she tasted a competitive game again, due to concussions, she made Sky Blue's 2016 NWSL roster via an open tryout.
Conheeney was a goalscoring VT player and Jaz was one of her biggest fans as she started her pro journey in her native NJ and even scored the winner on her debut for Sky Blue at Seattle Reign last April.
"Kelly's going to be successful because she has the drive to do it. I definitely do keep tabs on what she's doing because I'm so excited for her.
"I don't want to speak too much on her experience, I can't speak for how she feels, but I think when she stopped playing at Virginia Tech because of her injury, it wasn't really done on her terms. I feel like now, whatever she does, she can do it on her own terms.
"She didn't have to end her career when a lot of people thought that she would, so I'm super proud of her. I know it's something she worked so hard for and she deserves it, so I was so pumped to hear that she was joining Sky Blue."
Scorer of 25 goals and provider of 19 assists, Jaz placed her name at the top of the VT program's all-time appearance list when she ended on 91 (62 starts). Much more so than stats, however, what really remains in her memory are the little details like seeing everyone around campus in school colours, as well as the variety of dining options that were always on offer!
The togetherness was in evidence during her senior year as various Hokie athletic teams rallied around the women's soccer side to send their support or even show up to cheer them on in their historic season. For Jaz's own team, there is also video evidence that they were there for one another.
In the game footage, Jaz gets knocked off the ball by an opponent, only for her teammate to come rushing in to strongly dish out the same to that very player! She remembered it with a fond smile.
"We watch that video all the time. It was a Florida State game, I think it was the Final Four Game, and Taylor Antolino, something happened prior to that play on the video between them and that set Taylor off.
"She was like, 'I'm gonna go stick up for my friend and stick up for myself!' We watch that video quite often.
"Obviously we don't wanna be malicious or anything like that but it's something we'll never forget, that's for sure."
So if Jaz ever needed some career teammates to step up and record a song cover with her, it's pretty easy to guess which team she'd take her selections from?
"I definitely have to go with Virginia Tech because we were all super close. Julia (Goldsworthy) would be the lead performer and then I would have…there's too many of them to list, but most of the girls I graduated with in my senior class and a couple others from the class before.
"If we had to pick a song, there's one called 'Outta Your Mind' (Lil Jon featuring LMFAO) that was big in our locker room and we'd go crazy for it."
Soccer was of course a huge factor in Jaz getting to know the people she did and in establishing the friendships that are still there today, although she started playing the game only after feeling left out when her younger brother Cody started! Delaware's Player of the Year in 2008 and 2009, she set a state record with 50 goals as a freshman at Caesar Rodney High, as well as captaining her team as a senior.
Three years of her club soccer career were spent representing the Vista Shockwave, with whom she won the Virginia State Championship and U.S. Club Soccer National Cup, and she attributes this as the period in which the sport began to feel much more meaningful in her life. As a member of an Olympic Development Program regional pool, she also got to travel to Costa Rica as a high school freshman.
With her father, Harry, and mother, Katherine, stationed at a military base in San Bernardino, she was born in California before the family moved to Dover, Delaware when she was around two years old. According to Jaz's old collegiate athlete profile, her dad was a three-time world champion in powerlifting, so was that true or just a spectacular typo?!
"Yeah, it was pretty intense! I don't know all the terminology or the divisions he was in but I do remember going to the competitions on the weekends.
"He was super strong, always training, and always won; like I never remember him losing or coming second. He ended up going to Belgium and other places where he won the world title, so that was pretty cool.
"I don't think it was something that he did for a super long time; maybe two or three years, if that."
Back at VT, Jaz majored in Business Management and as she said earlier, she still feels like a college kid when she visits campuses. Upon drafting her, Breakers coach Tom Durkin described her as 'an exceptional athlete', and while she still keeps in shape today, it may take time to get fully back up to speed if she ever comes out of retirement!
"My boyfriend, Tyshawn, and I have been extremely eager to start a family, now that we are both in the same place…finally! Now that it is actually happening, we are thrilled – August can't come soon enough!
"It's so embarrassing to say, but I've hardly played soccer since I stopped. I actually didn't touch a ball since I left Boston until last spring and I played in a co-ed rec league with Katie Cramp and Amanda Gerhard from Virginia Tech.
"I played in a couple of games after that. I still work out, not nearly at the level when I was playing, but I miss being an athlete more than anything.
"I miss training for something, I miss being competitive. I don't think the athlete part has been shut off in my mind, but physically, it kind of has.
"I still stand by my decision but it becomes hard for me when the World Cup or Olympics come on. I don't know what would have happened, and I'm not trying to say at all that's something I could have been a part of, but just to kind of wonder 'what if?' or 'did I leave too soon and not give myself the chance to be the player I could have been?'
"When I watch the College Cup I miss those days as well, so those are the times that become kind of hard for me."
One of the biggest beauties of soccer is that as long as you have a ball and some space to work in, you can play just about anywhere. If Jaz could just head to an empty field for some shooting practice with someone now, who would be first on her list?
"She's like my favourite of all-time, Kelly Conheeney's just all-round great. She's so fun, personality-wise, so dedicated to soccer, so I think she'd be the one I'd want to kick the ball around with a bit."
On the Hokies' 2013 run to setting new program records for wins (19), goals (56) and victories over ranked opponents (six), the bonds in that team were solidified once and for all. That warm glow of belonging is what sums it up better than anything as Jaz gives a final reflection on an untouchable chapter in her life.
"It's almost indescribable. To me, Virginia Tech is such a special place.
"I have not one ounce of regret, I loved every second of my time there. I just loved how it was such a sense of community; if you were a Hokie, you knew what that meant and you were gonna be friends with any other Hokie you met, even if you saw them across the country.
"I loved that it was in a location that allowed my family to come see me. There's something about it that I can't even put into words.
"I try to go back and visit. I didn't go back this past year because I was super busy, but it's something that I'll always be appreciative of."
The sound of every game day and the celebrations from that night against UVa still echo, but alongside that, Jaz does still have some physical mementos. Her boyfriend, Tyshawn Bell, played basketball at Delaware State University and had a season with German team BBC Magdeburg, and you can find reminders of Jaz's soccer career generally kept alongside his sporting souvenirs.
"I think my dad probably has most of them. My boyfriend's dad also has a room with all of our jerseys hung up in there.
"They're kind of all spread out amongst my family but one day I'll do something with them in my own house. It's always nice to remember what I did and with the Internet now and things like articles."
Stepping away from something you invested so much of yourself in is far from easy. After all the time, the energy, the knocks, the goals and the great memories, Jaz found her own path away from the field, though the accolades will stay beside her name.
A semi-finalist for the prestigious Hermann Trophy in 2013, she made school history as a VT senior by being named to the NSCAA All-America First Team and the All-ACC First Team, while also making the ACC All-Tournament Team and the NSCAA All-Southeast Region First Team. Team success was always more of what Jaz was all about, however, so let's end on that very note.
In each music/soccer interview on here, the player is asked to finish with some imagination as they envisage a small-sided game in which they have four teammates from any time in their career alongside them. While you always want the most talented players on your side to take it to the opposition, knowing you have people you can count on when it gets tough also matters greatly.
Of course every player can name a whole bunch of teammates for something like this, so it should be thought of as just a starting line-up! Jaz rounds it all off as she takes us through some of the first names who would make her squad.
"As you can tell, I'm super obsessed with my time at Virginia Tech and I feel connected to the players I played with. So I guess we'll start at the back – keeper, I would like to take Dayle Colpitts.
"I've always been so lucky to have amazing keepers; Alyssa (Naeher) was fantastic, but Dayle was my roommate in college when I was a freshman. She was just amazing for us my entire time at Virginia Tech, so I'll take her.
"The defender was actually the one that I struggled with the most. Julie King is someone that came to mind from the Breakers, but it's funny that you brought up that video earlier, because Taylor (Antolino), I think I'm gonna have to take her.
"She's someone that's going to have your back no matter what, she's going to do whatever she needs to do to get the job done. Midfield – first one that came to mind, no doubt about it, was Kelly Conheeney.
"No matter what, if I'm 20 yards ahead of her and I'm trying to cross the ball, she's going to make it into the box. Hardest-working person I know; she was just like an Energizer bunny and she loves soccer.
"(At forward) I'm gonna say Murielle Tiernan because even though we only had one year, I feel like we had the potential to be really good together. She was a freshman and she still killed it that year.
"I was just getting to my best that year and although we did well together, I think if we had more time we could have created something special, so I'll have her. Shannon Mayrose (forward) would be on the bench because she's awesome, and I would probably put Lianne (Sanderson) on there, too, whether it'd be up top or in midfield, only because she always finds a way to get it done."
To catch each of these interviews, you can follow me: @chris_brookes
You can also like the Facebook page and keep up to date