Isabella Echeverri interview: The rock that rolled to Rio – Colombia midfielder's amor eterno
For Colombia's Isabella Echeverri Restrepo, the last year and a half has been barely comprehensible, with the 22-year-old University of Toledo midfielder playing at both the FIFA Women's World Cup and Olympic Games, as the stage that once existed only in her imagination suddenly beckoned her.
On a cloudy but bright Saturday afternoon in Moncton, the 2015 World Cup brought together a pair of supposed unequals. One of the international frontrunners in the women's game, France, met a Colombian team playing at its second World Cup and chasing a first win at a major global tournament.
Sitting 28th in FIFA's rankings at the time, some 25 lower than their opponents, Las Cafeteras would become the lowest-ranked side to topple a leading nation since the introduction of the women's team rankings in March 2003. After the notoriously-tenacious but dazzling forward Lady Andrade slipped Colombia into a shock early lead, the Champions League winners and big names amongst the French contingent were frustrated as the superb Sandra Sepúlveda and her defence stood firm.
Deep into injury time of the second half, Catalina Usme went on to make it 2-0 after France keeper Sarah Bouhaddi had relinquished possession, giving the South Americans that precious first victory in front of the world. On 87 minutes and with the lead still slender, Colombia coach Felipe Taborda had brought young midfielder Isabella Echeverri on to replace Yoreli Rincón.
It meant that this mid-June New Brunswick scene had been the very dawning of the Medellín-born number 21's major tournament journey, with over 13,000 there with her.
"I remember my debut in Canada against France," she recalled. "We were up against the third-best team in the world, the most important game in Colombian history, and it was my turn to get in and help my team close the game."
"My hands and my legs were shaking; I have to say it was one of the best feelings I have ever experienced. I remember the exact date of the game and it will forever be in my heart."
Having tested the waters at the highest level, Isa returned south of Canada, to Ohio to be exact. It was in 2013 that she joined up with the women's soccer program at the University of Toledo, but she would have to sit out that season after UT had calculated her grade point average from school in Colombia as 3.6, only for the NCAA to judge that it translated to less than 2.5.
In what became her freshman season, in 2014, she was joint-leading scorer for the Rockets with four goals and she led the team with six in 2015. With three assists from her 20 starts, she led UT in points (15) in a sophomore year that came hot on the heels of that memorable World Cup experience.
A midfielder with attacking aerial threat, high technique and strong awareness, Isa had her junior season this fall and received First-Team All-MAC recognition (Mid-American Conference) as she scored four and assisted on three goals (11 points). It was another season in which she arrived back in Toledo after being part of something momentous with her national team.
Making the cut for a World Cup squad of 23 is a special achievement, but when it comes to an Olympic roster, there are only 18 places up for grabs. Isa was one of the chosen few at this year's Rio Olympics, wearing the number 5 this time.
She had been a spectator in the opening group defeats to France (4-0) and New Zealand (1-0) in Belo Horizonte, but with Taborda's team level at 1-1 with the hotly-fancied USA after the first half in Manaus, her time came.
"At half-time, my coach told me I was going in. It was a completely different feeling from the World Cup game; I felt confident and excited about getting onto the field.
"We ended up getting a tie, 2-2, and it was a big achievement for us as a team and for me as an individual.
"Brazil was a completely different story (to the World Cup). It is the dream of any athlete to be part of the Olympic Games and when I found out I made the roster I was sitting with my parents in my house and we all started crying.
"Two weeks after we were in Brazil, we felt at home; people were super friendly and the organisation of the tournament was outstanding."
Over 30,500 were at the Arena da Amazônia to see Cata Usme come up big against a leading nation again, as she put her second free-kick of the game past Hope Solo to earn a point for Colombia in the 90th minute. Although they hadn't made it out of an incredibly tough group, the Games had been another step on the way for a national team that had seen its Under-20s glisten with promise as they finished fourth as debutants at the 2010 World Cup in Germany.
That crop of players included now-established senior talents like Yoreli Rincón, Lady Andrade, Melissa Ortiz, Daniela Montoya and captain Natalia Gaitán, while Isa was with the U20s two years later as they came third at the 2012 South American Championship. Her subsequent integration with the full team and her part at the two most prestigious global competitions has marked quite a rise from where she began learning the game.
Teammate Lady Andrade is one of the many South American players who developed through futsal growing up, honing her relationship with the ball, ability in tight spaces and the confidence to try the kind of improvised skill moves that can take you past a player and into the affections of fans at the same time. For Isa, playing the game in the streets was typical, although part of her soccer foundations had an even more robust element than that.
"My father used to take me to school every day, but he used to wake up super early and we would get there like an hour before we were supposed to. We used to grab a little rock – yes, a rock – and play with it until it was time for me to go.
"My passion began there. After that, I used to play in the streets near my house with boys when I wasn't in school.
"At the beginning, it was all in the streets. I didn't have big goals to score on; we just made our goals with bottles or our own shoes and played a five-v-five or so in the middle of the street."
For so many millions around the world who fall deep in love with football and lose count of the times spent playing for fun until the day literally runs out, the dream of doing it in front of a full stadium burns bright. Isa has seen that idea of a platform on which to perform start to take flight with soccer, but also in a sense when it comes to another love of hers.
Many have begun to see how the Colombian team express themselves on the field, with the flair and exuberance scattered over the top of their foundational will to compete for each other. Behind that is another uniting factor, led mainly by a forward who, like Isa, came on in the dying embers of that win over France in the World Cup.
"I can tell you music is a big part of our team chemistry. We actually dance for maybe half an hour in our locker room before big games, and believe me, everyone dances; even the ones who have no idea how to dance!
"The DJ is one of my best friends, Tatiana Ariza; she has been the Colombian national team DJ for the last eight years or so and everyone loves her music. The team listens to music together not only in the locker room but also on the bus rides to training or games, while we are doing ice baths, or in our free time."
Named to the 2015 Academic All-MAC Team (for student-athletes who've excelled in their sport and the classroom), Isa played most of her teenage years for Formas Íntimas in Medellín, captaining the team during that time. Her leadership qualities from the middle of the field and away from it altogether have been recognised in Toledo. Ahead of this season she was chosen by her teammates alongside senior midfielder Brooke Maletic and junior forward Regan Price as a team captain.
Soccer apart, she enjoys playing basketball, tennis, volleyball and ping pong, as well as taking more than a passing interest in the sounds she's surrounded by.
"Music plays a huge part in my life; I always have my headphones on while walking to class or in the gym or just in my apartment. I believe music is a way to relax and it makes my days a little happier.
"My favourite songs right now are: 'Closer' by The Chainsmokers featuring Halsey, and 'Otra Vez' by Zion & Lennox featuring J Balvin."
The Latin rhythms are always in her soundtrack, with aforementioned reggaetón artist J Balvin not the only Colombian she tunes in to. One of her other compatriots to have conquered a respective segment of the music market is a multi-platinum-selling singer Isa has become familiar with.
"I have the pleasure of knowing Carlos Vives personally and I have been to many of his shows. The first time I saw him on the stage was mind-blowing; the amount of energy he transmitted was amazing and I really, really enjoyed it.
"I also attended a reggaetón festival and I got to see Daddy Yankee, Don Omar, J Balvin and other great artists of this genre. The artist I wish I could have seen perform is Michael Jackson.
"He revolutionised the music industry and it must have been a great show to watch live."
A former Montessori School student in Medellín, Isa was born to father Juan Camilo Echeverri and mother Monica Restrepo, and she has two brothers, Pedro and Sebastián, with a sister, Rosario. She goes back to her earlier years to recall the first music she ever owned, with a song that many will have found stuck in their head at one time!
"The first song I ever bought was 'La Camisa Negra' by Juanes. I was like 12 years old and I remember I loved to sing it with my mom.
"When I was growing up, I enjoyed listening to Shakira, Juanes and Carlos Vives. These are probably the most known Colombian singers in Colombia and around the world."
Though tennis may just be a sport Isa plays for fun sometimes, there is actually much more of a link to it in her story than many would imagine. It was the UT tennis coach Al Wermer who told the women's soccer coach at the time, Brad Evans, about a man in Colombia who found tennis players places at U.S. colleges, as well as doing the same for soccer prospects.
That was the starting point for current national team captain Natalia Gaitán to head to Toledo to play for the Rockets in 2009, and she would have a big impact. Along with Evans, she would help identify players to recruit from Colombia, with defender Angelica Hernández and Isa two of those.
Unlike Bogotá-born Hernández, Isa could not play straight away due to the NCAA's ruling over her grades, making her start to college life much more frustrating than she had wished. Getting used to a soccer style that placed more precedence on physicality than technique was another challenge to contend with, and after she returned home following her first year, it was far from guaranteed that she would be back.
Thankfully, she did return, hitting levels of performance intensity in training that left those around her pleasantly astounded. A Second-Team All-MAC in each of her first two seasons, Isa's influence has consistently risen and only senior forward Kiersten Johnson scored more than her this year.
The Rockets' 2-1 win at rival Bowling Green recently was not just their season finale but also Johnson's collegiate swansong, as they headed south to claim victory at Cochrane Field. Before UT's last home game on October 23rd, Johnson was one of the seniors honoured, alongside Nicole Jablonski, Brooke Maletic and Lauren Taylor.
In her final home game at Scott Field, Johnson came up with a double in a 4-3 loss to Western Michigan, with Isa setting her up for one of these. The native Cincinnatian has also been the one fueling TJ Buchholz' team this year with more than just her ten goals, as Isa explains.
"Usually, it is my friend Kiersten Johnson who puts the music on in the locker room; she tries to change it up from game to game but she usually plays hip-hop songs. Personally, I don't enjoy American music as much as I enjoy Colombian music; that is the reason I don't dance in the UT locker room.
"I put my headphones on and I listen to my own warm-up playlist where I have some salsa, vallenato and reggaetón, which are mostly Latin genres."
Winning her first cap in 2014, Isa has been involved in various international tournaments in the time since, with appearances at the South American Championship, Central American and Caribbean Games, and the Pan-American Games along the way. In the latter two of those in Mexico and Canada, Colombia were runners-up, as they have been at the last two Copa América competitions.
Ranked 24th in the world, only Brazil (10th) are currently higher placed in South America and Isa also feels there are few who can match the Superpoderosas for musical energy.
"If I am honest, almost everyone in my national team sings, raps and dances! You should go to one of our tournaments and you'll see what I am talking about.
"The most memorable teammate for singing will be Leicy Santos, who will be the best player of Colombia in a couple of years. She knows every single song and we sing together in every training camp.
"For the dancing, I will say my dearest friend Melissa Ortiz; she can dance to any song at any time of the day. On the other hand, our keeper Sandra Sepúlveda is the rapper of the team; she knows every single word of every song.
"She usually raps when we are on the bus; she makes herself a stage on any bus or airplane we are on."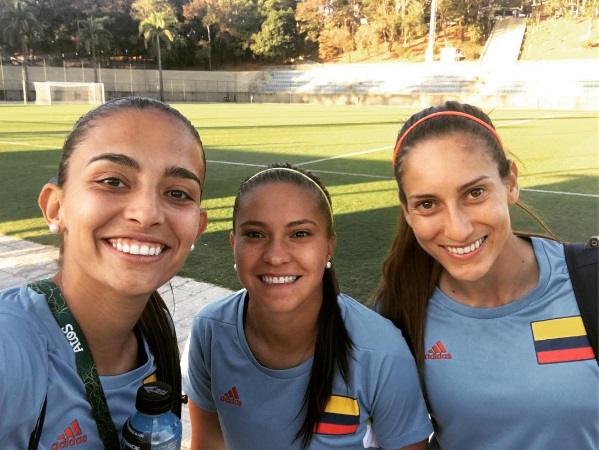 A crucial part of Isa's preparation for the Olympics this year involved her playing for Brazilian-born coach Aguinaldo 'Gui Gui' Ferreira at the Houston Aces in the inaugural season of the pro-am United Women's Soccer (UWS). The Aces came 3rd in the West Conference, putting a bad start behind them to be denied the title only after relinquishing a 2-1 lead very late in the last game against Colorado Pride.
Isa had been away with the national team for that game but had felt the anguish of her Aces teammates after she had enjoyed some excellent play with them during the season. Along with goalkeeper Courtney Seelhorst, Isa represented the Aces in the UWS All-West Conference Team, as did her national team colleague Tatiana Ariza.
With some Colombian flavour beside her in Houston, Isa would also want the same if she ever stepped into the studio.
"If I were to record a cover version of a song, I would choose our other keeper, Paula Forero – who actually has a great voice and knows how to play a bunch of instruments – and Leicy Santos. We will probably sing some song by Carlos Vives or Maluma."
A fan of one of Colombia's most prestigious names, the current Copa Libertadores holders Atlético Nacional, Isa has had the game around her for her whole life. Last month, her header secured Toledo a double-overtime win at home to Northern Illinois and was her fourth goal of the season.
Colombia hasn't been short of top-level footballers with a lust for the sport's entertainment factor, although Isa's most revered is one from Sweden. The serial title winner was the one she named when asked which player (male or female) from all-time she would want to stay behind after training for some extra shooting practice with.
"I have to choose my favourite player of all-time, Zlatan Ibrahimovic. I used to be a forward – a long time ago – and he was always the guy I wanted to see on TV.
"His calmness with the ball, his self-confidence and the way he makes the game look easy has been an inspiration for my career."
Appearing at their first World Cup in Germany in 2011, where they took a point from North Korea in the group, Colombia followed it up with their Olympic tournament debut at London 2012. Isa helped secure qualification for World Cup 2015 as she scored the opener in the crucial 2-1 win over Ecuador at the 2014 Copa América.
The team finished runners-up in the final stage and qualified along with Brazil for Canada, where they would reach the last 16 as the highest-ranked third-place team, exiting in Edmonton after Alex Morgan's goal and Carli Lloyd's penalty earned the U.S. a 2-0 win. Isa had made a pivotal contribution on the road to the tournament and has been at the heart of a group breaking new ground for women's soccer and sport in Colombia, but she remembers a time when she felt much more of an extraordinary case.
"When I was growing up, women's soccer in Colombia was still a taboo subject. People used to look at me weird because I played soccer and I know it was the same for my teammates.
"When I was growing up, I played with boys; my parents had to send a letter to the school asking them to let me play with them. The school made a census with all the parents in order to let me play.
"I played with boys until I was 14 years old; this is when I found a women's soccer team called Formas Íntimas and my actual career started. Soccer has always been a huge part of my life, and fortunately, my family has always been really supportive with it."
As winners of the South American Under-17 Championship, Colombia qualified for the first ever Under-17 Women's World Cup in New Zealand in 2008. With the country's FA including academic help and English lessons for players, the support was also to enable them to pursue pathways into U.S. colleges and to European clubs.
After hosting the South American Championship at Under-20 level in Bucaramanga and finishing second, the team reached the 2010 Under-20 World Cup, with the squad who came 4th featuring many of the renowned players in the senior side today. Last year, Colombia became the first nation other than Brazil to host the Copa Libertadores Femenina, in the tournament's seventh edition.
Natalia Gaitán has been one of those to speak up and urge more support from the FA, including more friendlies spread throughout the year to allow the national team to work and develop together consistently. Hugely significant news was announced earlier this year with the introduction of a professional league for 2017, and the Liga Águila Femenina is set to begin in late February.
DIMAYOR – who operate professional football competitions in Colombia – have targeted sponsorship deals to cover the running costs of the league, with 18 teams announced for the first season. The league will have three regional groups of six teams, taking on a hexagonal format, as the top two from each will go into the quarter-final, along with the two best third-place finishers.
The league's games will be spread across 16 different cities and the eventual winners will get to play the Spanish champions, as well as qualifying for the Copa Libertadores. Players from the winning club will also receive scholarships for the Universidad Sergio Arboleda in Bogotá, along with additional benefits from trading partners.
It is a requirement for the hosts of the 2023 Women's World Cup to have a national women's league, and the Colombian Football Federation's Executive Committee have signalled their intention to bid to stage the tournament. Although it is impossible to know exactly how such ambitions will play out, there is undoubtedly a great deal for Isa and her counterparts to feel hope in.
At just 22, it wasn't so long ago that she was a youth player not only trying to make her way in the game but strongly facing the kind of archaic viewpoints that so many around the world are still fighting to eradicate on a daily basis. With unconditional support in her corner, she wasn't to be deterred.
"After the census my school made to let me play with my school boys' team, I was able to play in a normal field and they taught me the tactical part of the game. Fortunately, the coach of the boys' team treated me like I was part of the team and I had the chance to show my real potential.
"My dad was always there, watching me play against other schools, and he remembers people kept calling me 'the boy with the long hair,' but he proudly said I was his daughter. Those were great times; playing with boys made me learn how to make faster and smarter decisions on the field."
Back in Toledo this fall, the Rockets didn't manage to make the MAC Tournament, but it isn't the last people will see of Isa in the Midnight Blue and Gold. One of two NCAA players representing Colombia at the Olympics (along with University of Miami keeper Catalina Pérez), Isa graduates next month, although after redshirting her freshman season she will play as a senior next year.
Impressively articulate and driven, she already has a clear picture of what she wants for herself and how she hopes to help others.
"I am doing a double major in International Business and Marketing. I will be graduating this semester and I will be doing a Master's program in Marketing next year.
"I would like to make an impact in my country and help girls like me achieve their dreams. I would like to help them get educated in the U.S. or anywhere else in the world while playing soccer.
"My dream is to work on the Olympic Committee or in FIFA; I believe someone with my soccer experience and my academic experience can really make an impact in Colombian soccer from a position in any of these entities."
On top of the Olympic encounter, this year has seen Isa play twice more against the world champions, as she was given 90 minutes in the April friendly losses to the U.S. in East Hartford and Chester. Just like last year, 2016 has brought moments that she will carry with her always.
The pride of lining up in national team colours as the Colombian anthem of '¡Oh Gloria Inmarcesible! (O Unfading Glory!)' was heard in those stadiums will never fade, and those are the feelings as Isa reflects on where her life and career has started to take her.
"Playing for my country, it's been an honour from day one. I can honestly tell you that five years ago I would never have imagined myself playing in a World Cup or in the Olympic Games.
"These experiences changed me as a person. It showed me how many things I can achieve in life if I work hard and responsibly.
"I have to thank my family, who were with me every step of the way; since playing with boys in my school, to the Olympic Games."
It was kicking that rock around before school that started the ball rolling for Isa, and although she is still in the opening act of her career in many ways, she can know that she is among the drivers for a better future for female footballers and young women in Colombia. With increased support from above, parents encouraging their daughters more than ever to play, and the efforts of players and staff still beating strongly, the last decade has seen astonishing growth, and yet there's the feeling that glass ceilings are still there to be shattered.
For now, we leave with Isa having the final word, as she picks out some of those she has loved working with in her early career. In each interview on here, the player pictures a small-sided game in which they can choose four teammates to be alongside them in their lineup of five. The focus can be on personal connection they share with those players, the ones most suited to games in small spaces, pure ability or even the most fun.
Isa's choices tick all of those boxes and it never hurts to have someone protecting your goal who's capable of the spectacular saves to go with her world-class raps!
"My goalkeeper will be Sandra Sepúlveda – the best keeper in Colombian history and one of the best keepers worldwide. She is a great friend and I have been playing with her for the last five or six years.
"My defender will be Melissa Ortiz – speed, strength and a great free-kick taker. She is one of my best friends on the field and outside of the field and I wouldn't pick anyone else.
"My midfielder will be Leicy Santos – as I said before, the future of Colombia. I have been playing with her since U20 tournaments and she is also one of my best friends.
"She is great with the ball at her feet; her technique is outstanding. Lastly, my forward will be Tatiana Ariza – she is one of the top scorers in Colombian history; our team will benefit from her goals!
"She is quick and very smart to make decisions on the field. On the other hand, one of my best friends as well."
To catch every one of these interviews, you can follow me: @chris_brookes
You can also like the site on Facebook and stay up to date