Guy Moussi interview: Former Forest man too hot to handle in the booth
Frenchman Guy Moussi left a distinctly positive impression on those around him in his six years at Nottingham Forest, even if there may have been one job the current HJK Helsinki midfielder was so good at that it actually worked against him.
In May 2008, Nottingham Forest had finally managed to overcome the hurdles and frustrations that had kept the two-time European Cup winners in League One for three seasons. Among the reinforcements that summer as the club returned to the second tier was a young midfielder from Angers SCO, who were in France's Ligue 2 at the time – Guy Moussi.
Deployed as a primarily defensive player in the engine room, the physically-imposing performer quickly showed he had a little more in his locker than just trying to spoil opposition attacks. Over the next six years, there were the hugely enjoyable times and there were the moments to test the resolve, but 'Moose' left the City Ground with the firm respect of the Forest faithful.
Following a brief stay with fellow Championship side Birmingham City last season, where he was widely commended for donating the entirety of his wages to charity, Guy has taken on the pursuit of his first career title with HJK Helsinki in Finland. With his early career back home and his years in English football, the 30-year-old has the kind of experience in the game that can be utilised in a number of ways.
Guy has had the benefit of working alongside a multitude of notable players, sampling certain elements they brought to the table from both a footballing and cultural standpoint. One particular segment of the latter is music, but despite his love for a mix of genres Guy explains why his teams' dressing rooms have never got to play host to his sounds on match day.
"I have never been the DJ because my music is so good that I can turn a changing room into a nightclub and it is not good for our professionalism!"
Club Moussi may have been shut down before its opening night but here are the DJs who may just have been in line for a residency! Guy recalls the teammates who were entrusted with the playlist before games, starting with Forest's former goalscoring defender who has gone on to captain Ipswich Town, and the homegrown midfielder with an eye for the spectacular, now at Sheffield Wednesday.
"At the time in France, we did not have that culture to have the music in the changing room, but at Forest in my first four years we had Luke Chambers and Lewis McGugan. They left to go to different clubs and Henri Lansbury was in charge, and also Nathaniel Chalobah during his loan at the club.
"In Birmingham, if I remember, it was Clayton Donaldson. Finally in HJK, my present club, the DJ is Erfan Zeneli, but sometimes Formose Mendy tries to be the one!"
Blues striker Clayton Donaldson was a music/football interview subject on this site earlier in the year, but as Finland international winger Erfan Zeneli and Senegalese midfielder Formose Mendy show, Guy's pool of career teammates has been decidedly multi-national. His musical influences are the same in that regard and he describes the genres from various parts of the globe that have resonated with him.
"Of course music is part of my life. I listen to different types of music: French rap, U.S. rap, hip-hop, African music, Latin music, but no rock music.
"It is difficult to tell you my favourite artist or music because it changes and varies with my mood, but in French rap I like Rohff, Booba, Kaaris, Mac Tyer, Ol Kainry. In U.S. rap and hip-hop: Meek Mill, Rick Ross, Tyga, Chris Brown, Drake.
"The first CD that I bought was probably an old school French rap one because it is all I was listening to when I was younger. I cannot remember which one but I guess it was the first album of the French group called Arsenik and I was probably 11 or 12 years old.
"At the moment, I listen to a lot of music from a French rap group called 40000 Gang and the title of the music is 'Paris m'a tué.'"
Guy spent a short part of his final season at Forest on loan at divisional rivals Millwall, joining the Lions in November 2013. Prior to his switch to Finland in February of this year, he had spent the majority of the winter with Birmingham City.
Still in the first few months of manager Gary Rowett's tenure, Blues were rejuvenated and it was difficult for Guy to break into a confident and settled line-up. He made three appearances for the club, debuting in the 6-1 win at home to Reading, returning to the City Ground as he came on for Demarai Gray in the 3-1 victory at Forest, and starting the 3-2 FA Cup win at Blyth Spartans as Blues had to come from two down at the non-league side to avoid a huge third round upset.
In characteristic fashion, he still managed to strike a chord with people while with the club and he made headlines as he donated all of his wages and bonuses to charity. The donation was split between the Birmingham City Disabled Supporters Club, Stop Ebola, the TEV Soma charity, and the church he attends in Paris.
As Birmingham gave him the chance to play again he wanted to help the club in some way, while his donation to those affected by the May 2014 Soma mine disaster was inspired by the fact he has a Turkish agent. A Christian, Guy has Cameroonian parents and his heritage was a big reason behind him giving to the Stop Ebola cause as he saw an appeal during the television coverage of the Scotland versus England game at Celtic Park last November.
Guy explained that he just wanted to donate so he could hopefully set an example to some people. Football is full of wildly differing and ever-changing viewpoints but this was one of the times to simply commend a great act of generosity.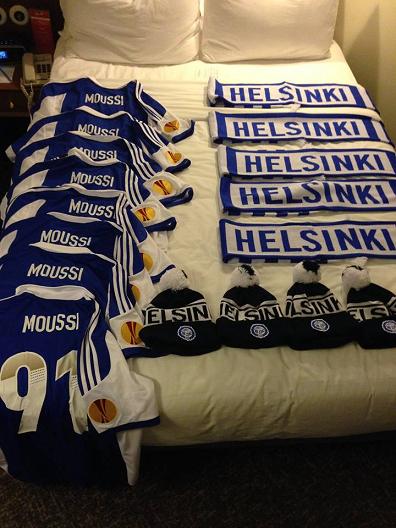 Although raised in France, Guy is strongly connected to his African background, as shown through some of his music, and he brought some Cameroonian patriotism to the Midlands in his stint at St. Andrew's. He recalls this as he casts his mind back over the singing initiations he has performed in his career so far.
"I did it twice actually. The first time was in my loan term for Millwall and I tried to sing 'Oh Happy Day' from the movie Sister Act but I was not confident at all and I was terrible.
"For Birmingham City, I was singing the Cameroon national anthem and I was uncomfortable; sweating and everything!"
Since their return to the Championship in 2008, Forest fans have seen a mixture of on-field fortunes, with play-off seasons, as well as mid-table finishes and survival battles. The 2011/12 campaign was not the one fans had dreamed of and they ultimately came 19th, which remains the lowest position they have (twice) finished in over the past seven years.
It was Guy's fourth season at the club and it began with ex-England manager Steve McClaren in charge, before Steve Cotterill took over in October 2011. One of Cotterill's matches at the helm will certainly remain long in the memory – the 7-3 thrashing of Leeds United in March 2012.
One of Guy's friends, winger Garath McCleary, scored four of Forest's goals and a particularly memorable moment in that unforgettable encounter came via midfielder Adlène Guedioura. The Algerian had joined Forest on loan from Premier League Wolverhampton Wanderers in the January transfer window and he hit a sensational long-range strike in the midweek game at Elland Road, atoning emphatically for an earlier penalty concession.
The current Crystal Palace player was one of those who made the cut as Guy put together his line-up when asked which of his career teammates he would have with him if he ever recorded a song.
"I think I would go with Kévin Gomis, Formose Mendy, Adlène Guedioura and Délis Ahou and they will sing a zouk song, which is French-Caribbean music. They will sing, but me, I will just do the beat!"
In his days as a Forest player, Guy made 150 appearances and scored all three of his goals in the 2009/10 season. Before his April 2010 strikes against Bristol City and Ipswich Town, he netted his first in the red and white with the dramatic injury-time winner to beat Barnsley at the City Ground.
It was a moment to light up the famous old stadium on an October night and Guy went into the crowd to share the elation, followed by his teammates. Already on a booking, the celebration landed him with a second yellow card and left his manager Billy Davies feeling 'gutted' for him as he understood the emotion he had felt.
At the time, that goal sealed a fifth win in a row for Forest in a season in which they came 3rd before losing in the play-off semi-final to Blackpool. The following year also had plenty of winning football for fans to take in as they finished 6th but were halted at the same two-legged hurdle, this time by Swansea City.
Shortly after he took over in summer 2011, Steve McClaren flew to the south of France to convince Guy to extend his contract with the club for a further three years despite the Premier League interest in his services. In addition to current Newcastle United boss McClaren, he worked with five other permanent managers at the club in Colin Calderwood, Billy Davies (in two spells), Steve Cotterill, Sean O'Driscoll and Alex McLeish.
Forest finished in 8th and 11th in the last two seasons of his stay and there had been a considerable flow of players coming into the club after the Al-Hasawi family's takeover in 2012. There was a French defender signed on loan from OGC Nice in January 2014 and although he was limited to just a solitary appearance he did manage to provide some showmanship for his City Ground colleagues after arriving.
The 26-year-old heads the list of the most memorable singers Guy has ever played alongside.
"I would say Kévin Gomis because I was so impressed. He was so confident and started to sing an old school French rap song of Booba and he was singing like they were his own lyrics!"
Catching Forest fans' eyes shortly after he joined thanks to a standout performance in a pre-season friendly with Everton, Guy was strongly linked to the Premier League side during some of David Moyes' final seasons at Goodison Park. His physicality is obvious and while the unpredictability he displayed made for certain nervy moments for supporters he also showed he wasn't lacking in ability.
Fans want to see their team enjoy good results and we all dream of our club lifting trophies, but a relationship with those who wear the badge on match days doesn't merely rely on titles won. Still extremely well thought of by supporters who used to gleefully chant 'Mooooose', Guy expressed why even though he might be long since departed as a player, Forest are still in his heart.
"This club is my home. I came to Forest when I was 23 years old, it was my first experience away from France and I could not speak English.
"The people – players, staff, fans, office people – they all welcomed me like I was their son or brother or member of family. I feel blessed and so thankful that I had the chance to play for them."
Football can be a pretty authentic reflection of life on occasions. In each, people join and eventually exit your journey, with many of those simply just passing through.
Meaningful bonds are harder to come across but they can still be found within the beautiful game. As Guy began to pick out some of his fellow pros who helped make his Forest days that bit more enjoyable he soon started to realise that it would be a task too big to name them all!
"It is difficult to tell my best teammates because they were all different and special, so I will miss names for sure. I will say a few: Luke Chambers, David McGoldrick, Chris Cohen, Radi Majewski, Wes Morgan, Julian Bennett, Adlène Guedioura, Hamza Bencherif, Tony Diagne, Kelvin Wilson, Garath McCleary, Dele Adebola, Chris Gunter, Dexter Blackstock.
"There are a lot of names but we were a family, a good group, and friends. I missed a few but I cannot say only one there."
When he signed for Birmingham, Guy stated that he had received longer and more lucrative offers from other clubs but wanted to go somewhere that felt right. Although it can understandably be difficult for fans to believe sometimes, considering the astronomical transfer and wage figures that are often reported, for some players there is much more to a move than just the financial aspect.
Six months ago, Guy decided that his next destination after almost seven years in England would be HJK Helsinki. Finland's most successful club, with 27 league championships, HJK have won the last six Veikkausliiga titles.
The league season began in April, meaning that Guy had the opportunity of getting a pre-season behind him rather than signing for a team in the midst of their campaign and being off the pace. HJK were narrowly beaten by Kazakh side FC Astana in their UEFA Champions League qualifier just recently and will now go into a Europa League play-off.
Mika Lehkosuo's team lead the Veikkausliiga at present and took on Liverpool as part of the Reds' pre-season preparations earlier this month, with Philippe Coutinho and Divock Origi sealing a 2-0 win for Liverpool. Guy appeared in that game and was excited about the possibility of winning a title for the first time in his career when he joined 'Klubi'.
When not playing at Sonera Stadium or elsewhere, he chooses to maintain focus in a relatively relaxed sense and has enjoyed his experiences of the Finnish capital up to now.
"The life in Helsinki is really nice. I do not have a lot of entertainment because I came here to play football, nothing else, but it is a big city so I know that if I want to do something I will be able to.
"After football, I spend some time with Formose Mendy, one of my teammates."
Those who supported Guy from the stands in England and worked with him will surely wish him well as he goes after that first league trophy. There are a great deal of emerging players who could learn an immense amount from him on how to carry yourself and represent your team, from the preparation to the off-field endeavours done in the name of the club.
For anyone who might not have read this site before, the idea in the past few years has been for each player to round off their interview with a 5-a-side selection consisting of themselves and four teammates from any time in their career. It is a line-up constructed for whatever reasons the interviewee chooses, so with Guy as the fulcrum, who would be his defensive players and who would be the ones charged with the task of making a difference in an attacking sense?
Although his front player was a Birmingham teammate, the Forest theme running through this team ensures it could only really be a red and white kit for them to play in!
"Keeper would be Dorus de Vries, because he is the best keeper I have played with in terms of ability with his feet. Defender would be Wes Morgan, because he is strong but only the people that have played with him know that he loves to dribble and is good at it.
"Midfielder would be Radi Majewski, because I like playing with him in midfield and he is really skilful with his dribbling and passing game. Striker would be Demarai Gray, because he is probably one of the best young players I have played with; he is quick, skilful, and he can finish in front of the goal."
To catch each of these interviews, you can follow me on Twitter: @chris_brookes
You can also like the site on Facebook – Beats & Rhymes FC