Amy Turner interview: A tale of two roses – Made of steel to 'Made of Stone' for Manchester United defender
It runs in the family just as much as being a full-blooded centre-half. For Amy Turner, music is wrapped up in her earliest memories, it was the antidote and the added energy in the hardest times, and it is every bit a part of the new beginning she is still enraptured by at Manchester United Women.
From the wonderment as a young fan, to the trepidation of being sidelined as a footballer herself, Amy Turner has had the hits to go with the highs, though she still won't shy away from the former when the whistle goes. In the inaugural season for the modern incarnation of Manchester United's women's team, the wholehearted defender was integral in the FA Women's Championship title success.
The former Notts County and Liverpool player now finds herself back at the highest level, and with Casey Stoney's FA Women's Super League newcomers harbouring ambitions of hitting the front in the coming seasons, the chances of adding to the four England caps she won in 2015 can surely only be aided. Her prolonged spell out with a knee issue sustained at Notts County in 2016 has been documented on a few occasions in the past year, but in truth, injuries haven't at all been a feature of the Sheffielder's career.
Since stepping back into the action with Liverpool at the end of the 2017/2018 campaign, her revival in red has reached new levels over at United, with only four players starting more games for the club last season. What she has never quite managed (or wanted) to shake off, however, is a link to music.
She describes some of the significance it has held along her way – from the white rose of her Yorkshire roots, to one of the stonier variety in MCR.
"Music has always been quite a big part of my life. I've been going to gigs since I can remember; there's nothing quite like live music and discovering new bands.
"I'd love to see The Stone Roses; I've found myself getting back into their music again after being in Manchester. What a band!
"My sister likes the same music as me, so it keeps us connected. We're always sending each other new bands to listen to; she actually introduced me to The Snuts, Gerry Cinnamon and The Sherlocks recently.
"I think my music taste probably goes against the grain compared with most of my teammates, but I've always quite liked being different. Our warm-up playlist at Leigh Sports Village was ten out of ten last season; similar to what's played at Old Trafford before games and that always got me up for it."
Melody maintains pride of place in the 28-year-old's life today, and it is a life that saw her play at the Etihad Stadium in front of over 31,000 last weekend, as the WSL's very first Manchester derby took place. Along with the here and now, music is also where she keeps her yesterdays.
"My mum probably had a big influence on what I listened to growing up; she loved vinyl and going to gigs, and we'd always have music on in the house, and in the car on the way to football. We'd listen to bands like James, Madness, Pulp, The Human League, The Smiths, Joy Division, The Clash, Eurythmics.
"I still have these bands on my playlists now and they always take me back. We have Irish heritage, too, so my grandma would always request The Pogues at family dos.
"I think my first CD was Hard-Fi 'Stars of CCTV'. It had a bright yellow cover; you couldn't miss it!"
It is more 'Stars of MUTV' now for Amy and her teammates, though there was a time when it was Stocksbridge rather than Leigh Sports Village, and a different United (but more of them later…). The Reds' number 4 is not the only well-known Turner in Stocksbridge High School's list of former students.
"My favourite band is probably the Arctic Monkeys; I find myself always going back to them for a little taste of home. (Lead singer) Alex Turner actually went to my school!
"I love indie music. I like bands like The Courteeners, Catfish and the Bottlemen, The 1975, Kasabian, Milburn.
"I've also rediscovered The Wombats, so I've been playing 'Turn', 'Greek Tragedy' and 'Lemon to a Knife Fight' a lot in the car recently. I saw Arctic Monkeys in Sheffield last year and that was absolutely crazy.
"Haz (Wales and Reading midfielder Angharad James) bought me tickets to see James Bay at Castlefield bowl a few years ago and he was amazing. I've seen Stereophonics a couple of times, and I saw Florence at Leeds Fest one year; she was something else!"
Seeing Courteeners frontman Liam Fray had followed her on Twitter the other week was 'a massive fangirl moment,' she admits, while thanks to United teammate Martha Harris during their time at Lincoln, Amy also acquired the nickname of Tina (think about it for a second). It has stuck since.
As she alluded to, her preferred song choices don't typically make the changing-room speakers when match day comes around, though there is a former Liverpool and Everton midfielder in the ranks at United who helps tip the balance sometimes.
"Sometimes Mollie Green takes over the speaker and she's a big fan of Kasabian; we both love 'Underdog' and 'Shoot the Runner'! Zel (Katie Zelem) is very much in charge of the music, though.
"It's not really music I'd choose to listen to, but it gets everybody going, so I can't complain. It's more r&b and old-school dance classics."
In United's most recent encounter, Amy was impressive at right-back as they were so narrowly beaten by last season's WSL champions Arsenal, with the only goal arriving as stoppage time loomed. Their opponents had plundered 70 goals in 20 league games last season, while it was similarly fine margins in their opening 1-0 defeat to runners-up Man City.
A key contributor as United conceded just seven league goals in 2018/19, Amy was part of a record-setting backline a few thousand miles away once upon a time. That was at Hofstra University, where she played for fellow South Yorkshire native Simon Riddiough, helping her Pride team set a new record of consecutive wins (18) for the women's soccer program.
She credits her time in Long Island, New York as pivotal in her shedding much of the social cocoon that had previously limited her, as she jumped headlong into her first experience of the wider world outside of Yorkshire familiarity and comfort. The infectious, outgoing nature of her dorm mate Kirsten White, who hailed from Colorado, Amy also feels left a lasting impact on her.
However, even with the best support system in the world, there are certain situations where you have to face the music alone! Although when it comes to having to sing for your new teammates, it is more a deafening silence that fills the air, as Amy recalls.
"I did an initiation when I went to university in America; I was so nervous! I sang 'Wonderwall' (Oasis) and just shouted the words in a strong Yorkshire accent; it was painful and still makes me cringe now.
"The girls loved it, though. They used to request it at parties all the time after that!"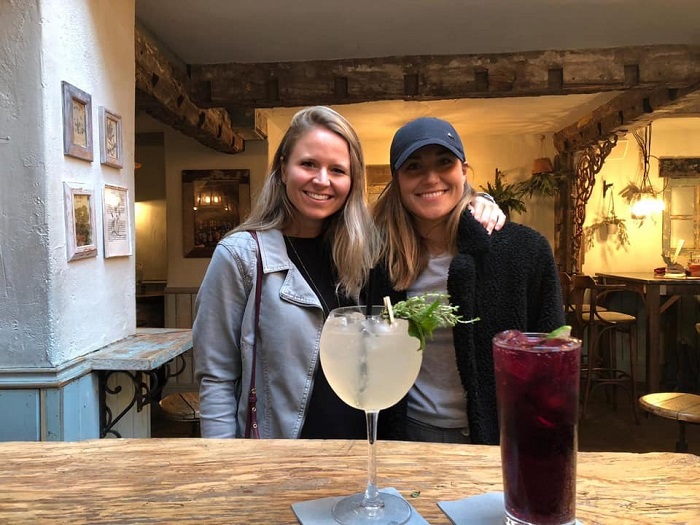 Like for so many growing up in England, America was for years a world she only knew through TV, films and suchlike, but soundtrack-wise, those from over the Atlantic (Canada included) seemed to fit the early-2000s Amy well. The chances of her being an X Games, Dew Tour or Street League competitor were probably not hugely favourable, but skateboarding was in its own way a part of her back then.
"I went through a stage of listening to bands like Sum 41, Green Day, Good Charlotte etc. and I suppose skating was part of my image back then. I was actually telling my roommate, Hayley Ladd, stories about these days when we went to Norway and she couldn't stop laughing! I think most people now think of me as being quite girly off the pitch, which I find quite funny.
"I used to go to a skatepark in Sheffield with my friends called The House. I was okay but very clumsy, so I was always getting hurt and refused to wear any kind of protective gear as it interfered with my look!
"I think in the end, my mum confiscated my board and my blades and told me I couldn't play football if I was always getting hurt."
She would come to find out all too keenly what not being able to play was like. Figuring in the entirety of the first Women's FA Cup final at the new Wembley (as Rick Passmoor's Notts County were beaten 1-0 by Chelsea) in August 2015, Amy did the same in the Continental Cup final that winter against Arsenal (a 3-0 loss) in Rotherham.
Together with starting a final at the national stadium, the year saw another dream ticked off. Introduced to the England fold as an Under-23 a year prior, she earned that sacred first cap when she replaced Alex Scott in the 3-0 win over Australia at the Cyprus Cup.
Her first start as a Lioness came against the Netherlands in the next game, a 1-1 draw, and two more would follow before 2015 was done and dusted. With Euro 2017 qualifiers underway, there was an 8-0 rout of Estonia in Tallinn, before a hard-earned 1-0 win at a rain-soaked Ashton Gate in front of the BBC cameras, as Bosnia & Herzegovina set up camp in their own half.
A summer 2016 knee injury from a block tackle in Notts County training led to questionable club support and understanding of the problem, before England thankfully took over her treatment and rehab. It was August 2017 before she was back running, and January 2018 when she trained again with the team – by that time Scott Rogers' Liverpool, with Notts having folded some nine months earlier.
"I would close my eyes and picture my comeback with the song blasting in my ears."
Despite the desperately sad demise of County, Amy vividly remembers hour upon hour on the Wattbike, with her efforts all geared towards playing for the club again. Although that particular prize at the end of the road would dissolve before she had chance to get there, desire and a drumbeat were pushing her all the way.
"I think The White Stripes will always take me back to Notts County. When I hear those first chords of 'Seven Nation Army' I still get the chills from walking out onto the pitch at Meadow Lane.
"It's a song that got me through a lot of tough bike sessions during my long period with injury there, too. I would close my eyes and picture my comeback with the song blasting in my ears.
"Unfortunately it never happened, as the club folded before my return, but it will always remain a special song for me."
Her start for Liverpool against Chelsea on the final day of the 2017/18 season felt a watershed moment. Her esteemed former Lincoln, Liverpool and England teammate Casey Stoney would come calling that summer, as the Manchester United Women project began, and she started 24 games last season, with a couple of goals to boot.
🤩🤩🤩 this is AMAZING! This is what we've been working hard all week for! Can't wait to see you all there on Sunday! 👹 @ManUtdWomen https://t.co/IzITIRACpH

— Amy Turner (@amy_turner4) November 1, 2018
The Stone Roses' 'This is the One' resonated with her when she joined the club; an Old Trafford anthem as the pre-kick-off anticipation is shifting into top gear for the men's team. Over at Leigh Sports Village, the women's team had a bumper crowd of 4,835 for their first home game (against Reading in the Conti Cup) since relaunching last year, and attendances often exceeded 2,000 thereafter.
With their name, (and undeniably resources, as the Championship's sole full-time team), United were understandably the one they all wanted to beat that bit more, but they delivered. In the top division this time around, they want to further develop their talented young contingent, bed in high-profile additions like Dutch midfield maestro Jackie Groenen and Scotland goal-getter Jane Ross, and to capitalise on existing momentum and interest by breaking into the WSL's top bracket.
For Amy, being at the heart of this new beginning has been among the most meaningful experiences of her football life – as those Roses put it, 'this is the one she's waited for.'
"I think playing for this football club, you really feel part of something special. You're part of the club's history, and what a history to be a part of.
"I suppose with that comes added pressure and expectation, but it's pressure that I feel I'm really thriving off and benefitting from. I've always been a player that will leave everything on the pitch and give my all, but now more than ever I want to fight for the badge, for the fans, for the young kids that look up to me, and for the manager.
"That's something that is with you all week. You can't just turn it on, on game day; you have to live and breathe it, and that's why I think we will be successful.
"We've all bought into it and we feel the scale of what we represent."
The enjoyment never quite runs dry, though, especially when one of Amy's lively defensive counterparts is anywhere near! The 23-year-old in question was the first one she had in mind when asked who from her career so far she would choose to collaborate with in the studio, if she had to record a song cover.
"Millie Turner is always singing and performing; she loves it. She's actually not got a bad voice, to be fair to her.
"She told me the other day actually that Jackie (Groenen) can sing, too, so I think a duet with those two could be on the cards the next away trip."
The women's game is well stocked when it comes to defenders by the name of Turner, and the Barnsley captain who fits that description also happens to be Amy's younger sister Lucy. There is little at all to separate them in playing style, and Lucy was at Sheffield Wednesday, Sheffield United and Doncaster Rovers Belles as a youngster, just like Amy.
A couple of years younger, Lucy was the far less robust of the two as they were growing up; the 'girly' one, as Amy recalls. She also describes Lucy as a footballer who could read the game a lot better than her, and it was Amy who encouraged her to eventually start playing again in recent years.
Always nice to get home to support the little sis @Lucy13turner. @BFCLadies looking like a strong outfit this season 💪⚽️🔴 pic.twitter.com/zUWyTMxkD6

— Amy Turner (@amy_turner4) August 16, 2018
At a summer football camp filled with kids and teenagers at Sheffield Wednesday's training ground, six-year-old Amy was the only girl, and if that didn't do it, her Sheffield United kit made sure she stood out! As hard as it is to believe in 2019, given her day job, there was a time when that was the only United she knew of.
As well as her dad, Amy's grandfather was another centre-half, playing for the Armed Forces team in World War II. Family and football will always be woven together for her, and it is there to see in the standout recollections she shares of Bramall Lane and following the Blades.
"I was really young when I went to my first ever game at the Lane with my uncle, but I remember the buzz of it. Going to a pub round the corner from the ground before the game and playing football with all the lads in the car park, and my uncle teaching me the words to (club anthem) 'Greasy Chip Butty'!
"My uncle unfortunately passed away a few years ago, so that especially remains a fond memory for me. I was there when (Paul) Peschisolido scored 'that goal' in the (2002/03 Division One) play-offs (against Nottingham Forest); I think I cried!
"Obviously, beating Wednesday was always a highlight; Michael Brown's volley (in a 3-1 home win in January 2003) comes to mind! I used to always love Boxing Day games, too; they became somewhat of a family tradition as I got older."
For her own playing adventures, it felt like she was in stoppage time before she had even really begun at senior level. Told after returning to Doncaster Belles from the US college game that her abilities would suit a lower level, she went to a Leeds team who had recently missed out on joining the newly-formed WSL.
Present-day Man United teammate Leah Galton was there, and England defender Millie Bright joined on loan, while Amy had gone there believing she would make an impression and soon move back up a level.
"That was very naïve of me at the time, because I realised that nobody was watching."
It led her to focus on her studies at Sheffield Hallam while playing for Sheffield FC. It seemed the footballing flame was about to burn out, until newly appointed Lincoln boss Rick Passmoor signed her, and the subsequent journey began.
Having completed her Postgraduate Certificate in Education (PGCE) at the University of Huddersfield, she was for a time a Notts County player who taught students intending to pursue overseas scholarships, while also delivering a BTEC course. What's a tricky WSL attacker when you've juggled all that?
Surpassing expectations is something she has become pretty good at. She tries not to focus on areas out of her control, but wearing the England badge remains the proudest time of her career, and one she hopes hasn't yet passed.
Regardless of how many caps or trophies the next few years bring, she wants to be remembered as a player who was willing to put their body on the line for the team, and as a person who didn't forget where they came from. The kid from the Steel City hasn't half done 'alreyt' so far.
The regular final question to these features leads us right back to the beginning. Asked for four examples of current or former teammates she wouldn't mind having alongside her in a small-sided scenario, Amy opted to make it a little White Rose special.
"I will go for an all-Yorkshire, brute strength team. Me, Jess Sigsworth, Kirsty Hanson, Leah Galton.
"The times we've played as Team Yorkshire at training, we've always come out on top – never in doubt. A lot of pace, power and Yorkshire fighting spirit…and goals…mainly from those three.
"As a fifth player, I would get my sister in (Lucy Turner) to help me out at the back, as she fits the mould! If needed, I would make her go in goal, like I used to when we were kids!"
To catch every one of these interviews, you can follow me: @chris_brookes
You can also like the Facebook page