Abby Erceg interview: Ferns captain bound by the beauty of the beat
A Championship-winning captain this year with the Western New York Flash, New Zealand skipper Abby Erceg has led a cultivated soccer life up to now, taking elements and lessons from each country her career has so far encompassed, and finding just the right chords to her soul's song in the process.
Back in the evening humidity of a Houston-hosted National Women's Soccer League (NWSL) Championship showdown, Abby Erceg was in the joyous pack of Western New York players eagerly dashing to keeper Sabrina D'Angelo as her third shootout save signalled victory against the Washington Spirit. The Flash's first NWSL title came in dramatic circumstances after the perceived outsiders had levelled in the 124th minute to force penalties, and their Kiwi captain was the one who first got to lift the glistening trophy high and proud that night.
The triumph arrived just a couple of months after Abby had played in a remarkable sixth major tournament while still just 26 years old, as she wore the Football Ferns' armband in the setting of the summer's Rio Olympics. A naturally athletic competitor with considerable aerial stature, the defender has grown and grown from a soccer standpoint after time spent in Spain, Australia, Germany, the U.S. and Japan in recent years and she is currently back in New Zealand to wrap up 2016.
The year has been quite possibly her most memorable yet, handing the Whangarei native so much more than the usual to sit back and absorb. The game is her life's work and in many ways will always have the power to take her back to where she began, just like the sound of a familiar riff does, as she describes.
"So I grew up in a household where rock music was very prevalent: Foo Fighters, Aerosmith, Bon Jovi etc. My first love for music was actually based around rock.
"As I've grown into my own person I've learned to love a variety of genres, with my favourite probably being hip-hop/r&b. Music has played a pretty big role in my life.
"As you can imagine, there are countless hours spent in a car driving to and from training sessions, so a good playlist is always crucial for getting me in the right mood, especially when you're heading to the second training session of the day. I feel that music can really bring people together, especially in a team environment; always making people laugh and dance, making fun of themselves or getting pumped up for the game.
"Music for me means fun and laughter, so I try to have music going as often as I can."
The inaugural FIFA Women's World Cup in 1991 did feature New Zealand, though it was another 16 years before the Ferns would grace another major tournament. Since the 2007 World Cup in China, they have qualified for every Olympic or World Cup competition and the current group is one characterised by its mesh of burgeoning talent and the more experienced names who've taken their careers to various leagues and continents over the years, with a number of them representing the elite at club level.
Having not been involved at international level previously, Abby not only went to the 2006 FIFA Under-20 World Championship in Russia but also scored against the hosts to register New Zealand's very first in a U20 World Cup. She played again at the 2008 edition in Chile, although a year before that, she had her first run at the senior tournament, featuring as a 17-year-old at the heart of the backline alongside captain Rebecca Smith.
The defeats in that group to Brazil, Denmark and China may have felt like a harsh reality but they were the first lessons on the biggest stage for many of the team, including Abby as a novice who would make her mark emphatically over the years that followed. She has since become an imperious mainstay through changing times for the women's game in general in New Zealand, helping to guide a present-day group filled with promise and character.
Beyond the stats and figures is a group that manages to further ignite its team unity when a song comes into play, as Abby describes.
"The Ferns are unique, especially when it comes to music. We have a lot of musicians, singers and dancers, talented or not, and we have been together for so long that we are all probably a bit too comfortable with each other.
"That leads to some interesting musical numbers. We've sung songs together, created video clips to certain songs, and the girls are constantly singing on bus trips, after games or just in their rooms.
"This obviously has a bonding factor to it and songs will always remind us of certain trips or times we've had together. I create the playlist for the games but everyone has input, so I'm not necessarily in charge, rather I just gather everyone's choices together."
As well as young forward Jasmine Pereira and the aforementioned and now-retired captain Bex Smith, striker Hannah Wilkinson has also previously brought some Kiwi flavour to this site. The 24-year-old, who has performed musically in public on a number of occasions, opened the door to her own live lounge of soulful expression in her interview on here in March 2014, and she places highly on Abby's list of golden-voiced teammates.
That aside, are there any sketchy ones that spring to mind?!
"Yikes, I'm not sure if I could throw anyone under the bus for their bad singing or dancing – what happens in locker rooms stays in locker rooms! It's like this sacred area that people get comfortable in before games; everyone does what they need to do without a fear of being put down for it.
"Although you may get laughed at – all in good nature – it's a pretty safe environment to just be you. There are plenty of questionable voices and dance moves appearing occasionally!
"The good, however, must include Hannah Wilkinson and her sidekick Erin Nayler. Those two have great voices and love to sing together.
"Wilky has recently written some originals, too, which is always really cool to hear!"
Erin Nayler has pulled her share of impressive saves out the bag for New Zealand in recent times, including in the 1-0 win over Colombia at the Olympics this year. There was, however, a time when the Lyon stopper was much more of a Ferns newbie, battling through the nerves to show off her singing shine in her initiation while the team was in Switzerland.
Abby also once found herself in a similar position, where it feels like an imaginary stage is appearing, with the spotlight on you and you alone! Now the team's all-time appearance leader with over 130, it was back in China in November 2006 as she was gearing up for her debut.
"Fortunately for me, my initiation was in a group setting and it was a silly dance rather than a song! Other than that, I haven't had to sing publicly, which is a blessing for everyone, trust me."
Much of Abby's time back home at club level played out in Auckland with the likes of Three Kings United, Western Springs AFC and Fencibles United. The former FC Whangarei player would first feature in Europe with Spanish side Espanyol, before later testing herself in Germany's Frauen-Bundesliga at FF USV Jena.
Also featuring much closer to home in the red of Adelaide United in the Australian W-League, she eventually had her introduction to the NWSL mid-way through the 2014 season as she joined Chicago Red Stars. A second season in the Windy City followed, before she added Asia and Japan to her club résumé with a 2015 off-season loan to AS Elfen Saitama to play with Ferns counterparts Anna Green and Sarah Gregorius.
It had all started on the field for Abby at Whangarei Rovers as a five-year-old – who would've guessed then she would be the first New Zealander (male or female) to win 100 caps? Way before she became a global traveller opening her mind and heart to alternative heritages and ways of living, she did still get a sample of a different culture – late-90s American pop, to be specific!
"I think one of the first tapes I got was Hanson and I must have been somewhere around…ten? 'MMMBop' was a hit and I thought the lead singer was cute, so that never hurts.
"I'm embarrassed to say it was a slight obsession and I remember having their posters on my wall and playing the tape over and over and over again, never getting sick of a single song no matter how often I replayed it. Although Hanson were my favourites, I also listened to Five, Pink and Spice Girls, like any other girl my age.
"I don't think my taste in music was too far off from the norm for girls my age, although because of my mum's influence, I knew all the words to most of the Foo Fighters songs, AC/DC and Metallica, which was probably a little different. I still enjoy their music today."
The Hanson brothers Zac, Taylor and Isaac – now 31, 33 and 36, by the way – adorned the walls of many in their heyday and for all its novelty value, 'MMMBop' still has that nostalgic power to bring some smiles when it's played today, even if not everybody would agree! On soccer teams of various ages, you spend so much time with your teammates that they almost become siblings.
When thinking of which ones Abby would pick to record a song cover with, she named a pair who have experienced multiple tournaments with her.
"This one is easy. We basically have a music group in the Ferns already, so I could have Wilky playing her guitar as well as singing, so it could be an acoustic version of something.
"Katie Bowen is a great entertainer and has a lot of fun ideas when music is the starring factor, so she would also be someone I'd have in the group! I'd love to do an X Ambassadors hit; putting in a bit of a female spin could be cool."
At just 21 years old in March 2011, Abby reached the milestone of a half-century of international caps when she played against the Netherlands. In nearby Germany later that year, the Ferns were defeated by Japan and England but they would round off the group phase with their first World Cup point as Bex Smith and Hannah Wilkinson struck in stoppage time to grab a draw from 2-0 down against Mexico.
Abby played all of that game and she was out there as they made another little bit of history at the 2012 Olympics. In Beijing four years earlier, the Ferns had earned a solitary point against Japan, but at the London Games they would earn their very first major tournament win, making it out of a group phase for the first time as well.
Facing hosts Great Britain in the competition's curtain-raiser, before Brazil, Tony Readings' team put successive 1-0 losses at Cardiff's Millennium Stadium behind them to beat Cameroon 3-1 in Coventry. Their first ever three-point haul in a big competition set up a quarter-final with holders and eventual winners the United States.
Although it was a 2-0 defeat in the end, the game gave them the opportunity to play at Newcastle United's St. James' Park – a part of English football heritage in itself. Earlier in this current off-season, Abby spent time exploring Colorado and Utah, getting in touch with the surroundings and respective histories.
Music is a key fibre in the feel of a place, which was something Abby got to appreciate first-hand while she was with Chicago Red Stars, as she ticked off a festival that always seems to get a mention on here from anyone who's ever lived in Chi-Town!
"I absolutely love festivals and concerts! My first concert was Pink and she was amazing; such a brilliant performer and from that point I was hooked.
"I attend concerts and festivals regularly every year, but my favourite so far has to be Lollapalooza! There are always so many good artists and you're always there with great people having a great time.
"I've seen the majority of the artists I love, but one always seems to get away and that is Drake. I absolutely love Drake's music and seeing him would complete my live music viewing bucket list."
Starting 11 games for Chicago after her 2014 mid-season arrival from Jena, Abby played another 14 in a 2015 campaign which saw her head to Canada for the World Cup. There was the Red Stars' first post-season appearance, with Abby playing in the playoff semi with FC Kansas City, and aside from Lollapalooza, she also had a free pass to a live show from a Canadian forward who has never really been known as a shrinking violet!
"I have a very distinct memory of Melissa Tancredi in the Chicago locker room. That girl is a wild one and is always a barrel of laughs and used to dance ridiculously before games.
"I think in any team environment music will be a part of the locker room; I've never been in any environment where music just ceased to exist."
Some locker-room bass to set off the willing team dancers and singers was definitely part of it at Western New York this season. The focused intensity was there from day one as Paul Riley's training sessions operated at top speed only, consequently never lasting more than 75-90 minutes.
The Flash became an admirably cohesive and driven unit, but with a light-hearted and fun side in there as well. Whether it's through midfield ace Sam Mewis, forwards Jess McDonald and Lianne Sanderson, or so many of the others in the squad, music is a real part of their collective and individual expression and release.
Abby has been known to take on team DJ duties from time to time in her career, so how did it usually play out in that sense for the 2016 champions?
"Music in the locker room can be tough; there are so many people to please and everyone likes something different before heading out. Whoever takes care of the playlist is taking on a massive responsibility and you have to be a little tough-skinned because you will get heckled at some point for a song choice!
"Fortunately, our Flash locker room was pretty chill and most people had the same taste in music. I think we were all happy as long as something was playing that some of the girls could jump around to!
"We have some big personalities at the Flash and they love to dance. Although I don't need to sit and focus, I do enjoy just sitting back and watching the mayhem unfold in front of me.
"One thing always leads to another and before you know it the whole team is trying to do the best twerk or the best dance routine. Locker rooms were a lot of fun with the Flash."
The tunes added an extra element to the Flash's win celebrations and also helped fire up the mood even further before kick-off. From the season's outset, they ran together in pursuit of NWSL success that really nobody had tipped them to achieve.
Head coach Riley tapped into the outsider tag and his players responded in the perfect manner. The league's leading scorers in the regular season with 40, the Flash took the fourth and final playoff spot but had drawn some disparaging voices after the schedule saw them play four games against a Boston Breakers team who would finish rock bottom.
A 2-2 draw aside, they would admittedly capitalise on that, with a 7-1 and two 4-0 victories, but the players earned every result, and when the playoffs came around, they ultimately had what it takes to be successful. Arriving in Portland to take on the first-placed Thorns, WNY came up with a 4-3 win after extra-time in front of a 20,000+ crowd at Providence Park.
Even when it looked much closer to impossible than improbable in the Championship clash with Washington Spirit, they somehow pulled it out the fire. Lynn Williams was the league's breakout star and the Golden Boot winner saved her 14th goal for the fourth additional minute of extra-time to head home a precious equaliser at 2-2 from Jess McDonald's cross.
Sabrina D'Angelo came up huge with three saves in the shootout, leaving the Flash to enjoy all that they'd accomplished. Abby, who had scored twice in 19 games and even slotted into midfield, explains how the year was approached from those on the inside, as well as how players reacted to some of the less positive opinions circulating.
"We were most definitely the underdog for the entire season, but we knew that coming in. We were never expected to achieve anything and all we wanted to do as a team was improve each game.
"Along with that, we were also aware that we didn't have the biggest fan base in the league, but we decided to focus on ourselves and worry about the things we could control and the things that mattered. I think the things people said were neither here nor there; people are entitled to their own opinions and when you play in a professional league as big as the NWSL you need to expect criticism, whether it's welcomed or not, and you need to find ways to be able to deal with it.
"Our team was an extremely united front and we would joke about some of the harsh comments, but nothing ever damaged team morale. Paul was a great coach and team manager because he managed what he allowed into the team, with how he handled any outside influence, be it media or opinions etc.
"He would only tell us things if he thought it was relevant or would help us in some way, which was crucial in the final weeks heading into the playoffs and final."
Certain places will hit all the right notes with you in your life, while others you venture to will be more of an uphill task to adapt to. What is for sure is that each one goes into shaping your character, so as a person who knows all about that, how is Abby different after the experiences in all the destinations she's been?
"I've been fortunate enough to play all over the world and had the privilege of experiencing different cultures and lifestyles with that. It really broadened my mind and gave me the ability to understand the cultural aspects of the game.
"Countries have their own unique style and characteristics in the game and this allowed me to introduce techniques that I probably would never have had the opportunity to implement. Not only has my game been impacted but so has my personal lifestyle.
"I have a much greater appreciation and awareness of cultures that are foreign to my own and I believe this is a useful tool when dealing with people on a day-to-day basis. In that sense, all of the countries I've lived in were life-changing, however, there are difficulties, particularly in countries where the language is foreign.
"For someone as independent as myself, it can be extremely frustrating to have to rely on other people to help accomplish such basic things in my day-to-day living. All of the teams I have been with have been extremely helpful, particularly in Japan.
"My favourite is probably America, purely because the league is enjoyable, the language is familiar, and so it makes it easier to explore and discover new things. Japan wasn't my best experience, personally, but the culture was absolutely fascinating and it had such a rich history that it was hard not to like."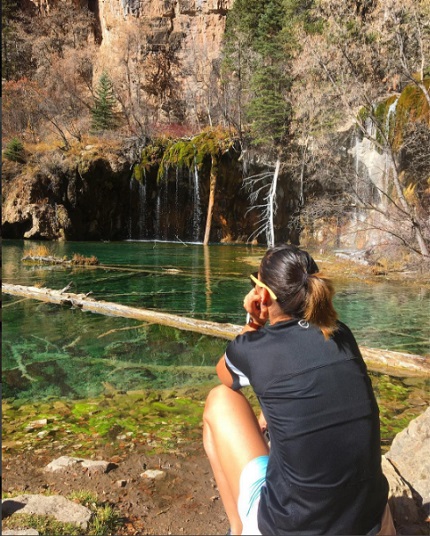 Reaching her international century at a successful 2014 OFC Nations Cup, Abby once wondered if she would be able to handle the step up to the senior team, feeling after her initial introduction that the jump from the youth side was just that bit too much. That gap has been bridged within the setup in admirable fashion in the years since, and as part of a familiar backline at the recent World Cup and Olympics, Abby had Ria Percival to look over to at right-back, who was there with her at that 2007 tournament as a fellow 17-year-old.
Having picked up draws at Canada 2015 with China and the hosts, New Zealand were defeated by the U.S. and France in an incredibly tough Olympic group this year, though they did achieve a highly satisfying win over Colombia. Amber Hearn struck the winner in the first half in Belo Horizonte, while the game also saw Abby receive an unjust late red card which was thankfully overturned to allow her to play against France.
Current Canada boss John Herdman coached Abby in the Under-20s and senior team and once said how well she had transitioned, praising her physical presence, confidence and developing technique and tipping her to go a long way in the game. His one-time assistant, Tony Readings, has been the head coach to most enjoy the benefits of Abby's ability, character and professionalism, and with a contract taking him through to the 2019 World Cup, there is a whole lot more to achieve together.
While the Ferns have most recently been back on home soil for friendlies with Thailand, Abby has been able to savour some time in her native part of the world for the first time in a year. Proudly confirming her Māori and Croatian heritage, the conversation turned to where she was raised and she recalls the Northland backdrop to her early memories of the game.
"I grew up in the small town of Whangarei, same as Hannah Wilkinson. It's a relatively small town of roughly 40,000 people where soccer isn't the dominating sport and I played mainly for fun growing up.
"It wasn't until I moved to Auckland at the start of high school that I really got serious about it. I was never aware it could be a career at that point in my life, but rather I stayed in because I was so competitive!"
Signed up already to play again with WNY next season, Abby has been taking the opportunity recently not only to travel but to also get some relative rest. Although she only turned 27 a month ago, she has been an international footballer since her teens, travelling the world and testing her mind and body consistently throughout that time.
A qualified personal trainer, she sheds some further light on her wider interests, as well as placing emphasis on the way she manages herself physically as she considers what she'd have to say now to the Abby who was just starting out.
"I really enjoy reading and honestly just chilling out around the house. The season is always so busy and it's nice to just have time off to let my body recover.
"I enjoy keeping in shape and I go to the gym every day in the off-season, but reduce any type of running dramatically as it's quite demanding on my body. I study during the season and enjoy psychology, nutrition and sports sciences; I'm hoping to enter into one of those fields at the conclusion of my career.
"Honestly the only advice I would give myself would be to look after my body. Rest when you need to rest; there's no need to push through any injuries and you don't need to prove anything to anyone other than yourself.
"I've really started paying attention to what my body needs as I get a little bit older and I've been fortunate to mostly remain injury-free throughout my career."
The feeling of holding the NWSL trophy aloft with her team around her in those commemorative white t-shirts may well have not yet faded away for Abby. What is certain is that it will be the perfect motivation when season five of the league rolls around in just a few months' time.
Before the teams line up again and the U.S. anthem rings out ahead of kick-off, Abby is needed for another game. Each player to feature on here is asked to picture a small-sided match in which they get to be in charge of who figures alongside them.
It is 5-a-side, so there are four teammates to put forward, from any time in their career. It is also necessary to say that they are not asked for the outright 'best four' they have ever worked with, so the reasons for selection are purely down to the interviewee!
It's a Kiwi / American mix that makes up this lineup, and while Abby puts herself at the back next to a fellow Fern, she may be called upon to add a couple of goals and the odd assist, just like she did when the Flash beat Seattle Reign in July.
"I'm extremely competitive so I would choose my team based purely on talent! My goalkeeper would be Jenny Bindon, because she was literally the most competitive person of anyone I've ever met; she would die to win and I love that!
"Next to me I'd have Rebekah Stott – that girl has a lot of talent and has already done some amazing things. She's my sidekick in the national team and I know I could rely on her.
"Midfield would be Lori Chalupny – that girl, hands down, is a machine. She would never stop running, tackling, or setting up.
"My last pick – Christen Press. Goalscoring machine and will literally save games for a team."
To catch each of these interviews, you can follow me: @chris_brookes
You can also like the Facebook page and stay up to date